Parma State Of The City Address Feb. 26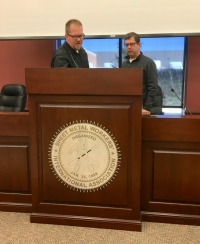 Mayor Tim DeGeeter will offer his 2018 State of the City address on Monday evening, Feb. 26 at 6:30 p.m. Continuing the trend started when he entered office in 2012, the mayor will showcase a community partner by taking his address outside of City Hall. This year, the address will be delivered at the offices of the Sheet Metals Workers Local 33 at 12525 Corporate Drive. "I am grateful for the Sheet Metal Workers' accommodation for the speech, and I look forward to Parma residents seeing this impressive facility," the Mayor said.
Past State of the City speeches have been held at Parma's GM plant, UH Parma Medical Center, Cuyahoga County Public Library, and the UAW 1005 Union Hall. "Our administration's approach has always been to combine common sense and hard work to produce real results," DeGeeter says. "We're proud to share some of our positive results at the State of the City address."
The speech is open to the public.
Jeannie Roberts
Communications Director for the City of Parma
Read More on News
Volume 10, Issue 2, Posted 9:46 AM, 02.05.2018