Water Summit In Parma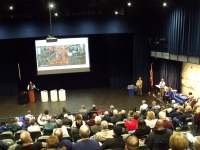 For many Parma residents, June 30, 2017 will never be forgotten due to the tremendous rains, some of which ended up in their basements. Parma's Ward 9 Councilman Jeffrey Crossman is among those that will not soon forget, "I wasn't so much driving in the rain that day-I felt like I was white water rafting home," said Crossman. "Parma had a tremendous—seemingly biblical amount of rainfall, as did surrounding communities. I was just trying to get home safely while it was raining like I'd never seen before." The rains ultimately caused widespread flooding in Parma and throughout Northeast Ohio, as storm water exceeded the capacity of sewers, rivers, and creeks to absorb the water. In addition to flooded homes, the Ridge Road exit off I-480 was temporarily closed and the Sam's Club on Brookpark Road in Brooklyn was literally under water as the adjacent creek overflowed its banks. Residents subsequently appeared at City Council meetings to ask what the City was doing to address their flooding concerns and the City engaged its partner agencies to address resident concerns.
This year Parma's City Council took a more proactive approach by holding the City's first ever "Water Summit" in the Parma-Snow library's auditorium. We wanted to inform residents what the City and its partner agencies are doing to tackle this issue. The storms hit my ward on Parma's north side particularly hard. We all received numerous calls immediately. I was on the phone for several days in a row responding to residents and There were issues for weeks later as a result of this one event. Over the subsequent weeks, as Council met with representatives from the Northeast Ohio Sewer District and Cuyahoga County to learn what they were doing to combat storm water management issues in Parma, Council members, in combination with Parma's Law Director Tim Dobeck, decided to hold an open forum where this information could be shared with residents and everyone could learn what the city and other agencies were doing to minimize these flooding events. "We hoped that this Water Summit was a forum where residents felt comfortable engaging in a proactive way. "We're hoping that everyone who had attended were able to take away what's being done and what we can all do to prevent some of the issues that cause flooding in the first place" Crossman said. The Water Summit was held at Parma's Snow Road Library on Thursday, March 22, 2018. Representatives from the City of Parma, Cuyahoga County, NEORSD,Cleveland Public Water and West Creek were all on hand to provide information and answer questions. The event was free and open to the public, with Rain Barrels raffled off courtesy of Law Director Tim Dobeck and Councilman Vito Dipierro. We are hoping for this successful event to be annual.
Kristin Saban
Councilwoman in Parma, Ward 4
Read More on
Volume 10, Issue 4, Posted 10:18 PM, 04.01.2018