Women's Flight Museum: 100 Years Of Accomplished Female Fliers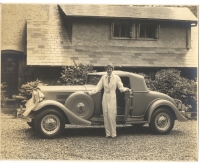 Before she tried to fly around the world in 1937, Amelia Earhart's family wanted her to study medicine. The woman who would become everyone's favorite lady pilot actually enrolled in Columbia's pre-medicine program before taking a plane ride at a California air show. Shortly after, she began flight lessons and bought a used plane.
Jean Batten's interest in flying, in 1929, came after a short flight with Australian pilot Charles Kingsford-Smith in his plane "Southern Cross." This was a problem, as her father wanted her to be a concert pianist. When Jean and her mom went to London, she wrote to her father of long hours of practice. Instead of piano practice, though, she was taking flying lessons.
When Thea Rasche's strict German father ruled that girls did not play sports and certainly didn't fly, his daughter secretly took flying lessons from a WWI pilot. After recieving her pilot's license and later a license for flying acrobatics, she became the first women stunt flyer.
These stories, young women persevering in their love of flying, are on tap at the Women's International Air And Space Museum at Cleveland's Burke Lakefront Airport.
The women whose artifacts appear had two things in common-a passion to fly and the determination to overcome numerous hurdles, often becoming the first (or early) women in their specialty. Some did good works later in life--some died early.
Now in It's 20th year in Cleveland and still the only one of it's kind world-wide, the museum's collections include all aspects of women in aviation--pilots, flight attendants, astronauts, engineers, and other contributors.
"We 've got information on 6,000 women, from an airplane to a piece of paper," said Heather Alexander, the museum's executive director.
With a very small staff (3 people including an intern), the museum receives artifact donations from families, sometimes honoring their family member and sometimes merely dispatching the artifacts.
"We don't purchase any artifacts," Alexander said. Instead the staff reviews the donated materials and determines if the new artifacts fit the musuem's mission, which is to promote the role of women in aviation and space.
"Flying may have been just one component of a person's life, " the executive director said. Karen Nybart, for instance, a NASA astronaut and a PHd. in Mechanical Engineering, sewed while in space, creating a stuffed dinosaur from space station scraps. Stuffed animals are often taken to space, partly beacause they are good zero-gravity indicators, which start to float when entering orbit.
The staff determines what part of the story fits with the museum. There's no shortage of work, meanwhile, as research requests arrive from across the globe, from sources including filmakers, documentary researchers, journalists, students and families.
Other than the few permanent exhibits-Earhart, Harriet Quimby, Louise Sacchi and Bessie Coleman are always on display- there are also displays about the Women's Airforce Service Pilot (WASP) program and the Mercury 13.
Artifacts and temporary exhibits change every 15-18 months. The planned rotation gives the museum a different look, keeps the artifacts from deteriorating and highlights new donations.
With revenues ever-short (the museum's public property location prohibits charging admission) Alexander shows promoter's hustle, melding retail promotions, group sales and special events, and finds publicity-value activities to cover for a lack of ad budget. The staff exhibits at air shows in Akron, Medina, Ashtabula, Willoughby, Lorain and at Kent State.
Modest revenues come from sales of group tours (some with boxed lunches), short-tem exhibit rentals to school and youth groups and a gift shop.
Grants are mostly not available for operational expenses, Alexander said.
More information is available at www.iwasm.org .
Harry Peck
Retired corporate sales & marketing guy in the tourism businesses. Long time free-lance sports writer.
Read More on News
Volume 10, Issue 4, Posted 10:15 PM, 04.01.2018