70th Annual Polish Constitution Day Parade Weekend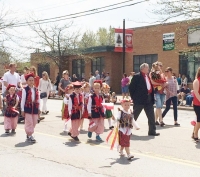 The celebration begins with a Wing Ding, Friday, May 4th, at RAXX located at 5513 Pearl Rd. Net proceeds from this event benefit Polish Village Parma, a qualified 501(c)3. Tickets can be purchased at the door for $20. Saturday, May 5th, at 6:00pm is the Polonia Ball in the St. Charles Social Hall. Junior Miss Polonia (ages 15-17) and Miss Polonia (ages 18-24) will be chosen at this event.
Sunday, May 6, 2018, the much anticipated parade comes to Polish Village. This parade kicks off the beginning of Spring in Polish Village. The parade route begins lining up at the Parma Circle on Ridge Road at 1:00pm. Bruce Kalinowski will be announcing the parade participants. Watch for your local high school marching bands participating in the event. The parade starts at 2:00pm and travels north on Ridge Rd., towards Snow Rd. and ends at the Unity Catholic Credit Union parking lot next door to St. Charles Church. The parking lot will be transformed for this event into a fun filled destination for parade goers. Listen to and dance to a live polka band. Visit the various food and beverage vendors selling Polish and American food. New this year, under a tent will be home-based business vendors and crafters selling lots of unique items. In addition there will be activities for the kids. This is a great family event to kick off Spring.
Hope to see you there!
Kathryn Mabin
Board Secretary of Parma Area Fine Arts Council, Inc, or PAFAC, and Artist/Jewlery Designer, Owner Aire of Oppulence.
Read More on News
Volume 10, Issue 5, Posted 7:34 AM, 05.03.2018