A Message From Parma City Schools Superintendent: Issue 5 Important For Our Staff And Programs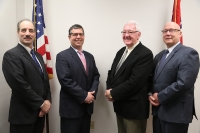 On May 8, the Parma City School District will have Issue 5 on the primary ballot. Issue 5 is a 7.4 mill operating levy request which will help protect and safeguard many academic programs and opportunities for all students in the Parma Schools.
Providing programs and opportunities that educate and promote the well-being of all children is what we do at the Parma Schools. We want to provide your children with the best education possible with up-to-date resources and buildings that are sustainable. We are here to educate your students and prepare them for their bright futures.
Every day you trust teachers, support staff and administration of our school buildings with your students. The reason you trust them is because they are consistently good at what they do. They have earned your trust.
Our certified and classified staff do an excellent job in all of our buildings throughout the system. 75% of our teaching staff has a master's degree and more than 58% of our teachers have 10 or more years' experience in the classroom. They do this despite being in the bottom third in the county when it comes to pay.
It's no secret that many of our classified staff live in the district. Their hard work, dedication and attention to detail benefits the community's children and makes our three cities very proud.
If you think these people work solely for their paycheck, you would be completely mistaken. These dedicated staff members routinely give up their evenings, weekends and time away from their own families to help even one child. It's that passion and commitment to students which truly sets our district apart.
Maintaining and sustaining quality staff members in any line of business is an important part of being successful. It's the people in your organization who make the real difference. We are successful because of the many people who dedicate themselves to education, to students and to the Parma Schools on a daily basis.
Issue 5 will help protect and safeguard our staff by being able to maintain and sustain the quality staff we currently have. In addition, it will help the district attract other high-quality staff to join us. All parents want what is best for their children, and we do as well.
We will continue to be vigilant with your tax dollars moving forward as we look to the future. Over the last two years, we have cut $15 million in spending by streamlining operations. The next round of reductions will have more of an impact. I ask you to consider Issue 5 and its importance on May 8.
Read More on
Volume 10, Issue 5, Posted 7:32 AM, 05.03.2018