Ridge-Brook Elementary Principal Steve Perry Named Educator Of The Year By PTA District 12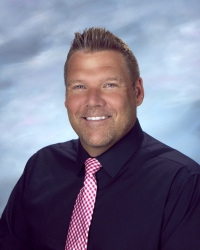 When you talk to Ridge-Brook Elementary principal Steve Perry about his building and his PTA, you would think he was talking about his own family. The connections that Perry has built over the last two years at the tight-knit school are undeniable. In recognition of his dedication to the children and families at Ridge-Brook, Perry was named the Parma Council of PTA Educator of the Year for 2018. In addition to being named as the Educator of the Year in Parma, Perry was first nominated for and then later awarded the Ohio PTA District 12 Educator of the Year. District 12 serves the communities of Bay Village, Berea, North Olmsted, North Royalton, Olmsted Falls, Orange, Parma, Rocky River, Solon, Strongsville and Westlake.
The nomination letter written by the Ridge-Brook PTA spoke of Perry's ability to make connections with everyone in his school's community. "What really made Mr. Perry stand out is the fact he has that interaction with his students and his families," Parma Council PTA president Angela Revay explained. "He's gone door-to-door to families from the time school started and continues to do so. Taking backpacks of supplies to them that were donated. Making himself known in the community and not just within the four walls of the school. He's motivated his staff and he gave lots of credit to them for the fact that he received this award." "I'm humbled," Perry expressed about receiving both awards. "It makes me want to work harder because it makes me reflect and go 'Did I really deserve this? What can I do even more for my families, kids and staff here where I can actually feel deserving?' I feel like I'm not, just because I want it to represent our school and not just one person."
Perry has made it his mission to visit every Ridge-Brook family at their home throughout the course of the school year. For Perry, the visits not only build a stronger link between the school and home but also shows that the school cares about kids and their well-being. "Building relationships with families lets them know that you care about their kids and you're going to keep them safe," Perry explained. "And that you put your actions where your words are. You can say whatever you want, people don't believe it unless you live it... Having people see that my staff and I care about kids, that's just very powerful."
Perry also expressed how grateful he is to the Ridge-Brook PTA unit for their dedication to the students and staff in the building. "They are passionate about it, they really are," Perry said. "There is no agenda for them. They want what is best for the kids and what's best for the school. They will do whatever it takes...They are willing to try anything that will either benefit the teachers, the kids or just the building. They work behind the scenes and make sure everything is perfect. They just love Ridge-Brook."
In recognition of his District 12 award, Perry was invited to the 112th Ohio PTA convention held near Columbus. Perry along with other district award winners gathered for the announcement of Ohio PTA's statewide Educator of the Year, along with the Helping Hands award.
Amy Popik
Communications Coordinator for the Parma City School District
Read More on
Volume 10, Issue 5, Posted 7:32 AM, 05.03.2018