AVTT Traveling Vietnam Wall At Tri-C This Month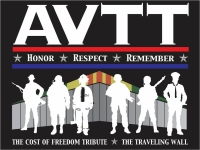 The American Veterans Traveling Tribute (AVTT) is an 80-percent scale version of the Vietnam Memorial Wall in Washington D.C. Across its 360-foot length, the wall contains every single name etched on the original. The Traveling Wall will arrive in Parma on Wednesday evening, June 27 and will be escorted to the campus by the Rolling Thunder, a motorcycle advocacy group that seeks to bring full accountability for prisoners of war (POWs) and missing in action (MIA) service members of all U.S. wars. The Wall will also be escorted by a helicopter from UH-Parma Medical Center.
Members of the public who are interested in lining the streets for the Wall's arrival should look for more specific details at https://www.facebook.com/AVTTParma/ about the timing of the Wall's arrival. The tentative schedule calls for the truck to arrive at 5:30 p.m. on Wednesday, June 27 and to be escorted from mile marker 225 on I-71, then north on I-71 to Pearl Road, then to Bagley Road and into Tri-C.
The Wall will open for viewing at 1 p.m. on Thursday, June 28 and then continuously 24/7 until the Wall is dissembled at 1 p.m. on Sunday, July 1. The Wall will be lit in hours of darkness, and security will be present 24 hours a day as well. Official opening ceremonies will commence at 3 p.m. on Thursday. Keynote speakers for the opening ceremonies are Sgt. David Hack, author of "The Life of a Warrior," and Mary Reynolds Powell, author of "A World of Hurt: Between Innocence and Arrogance in Vietnam."
Sgt. Hack volunteered for Vietnam in 1968, joining the 1st Infantry Division and was wounded in Lai Khe in1968, and subsequently awarded the Purple Heart. He spent a full year in a U.S. Army hospital in Fort Knox.
Powell was an Army Nurse at the 24th Evacuation Hospital in Long Binh. She says now, "I am the person I am today because I went through that experience."
The visit of the AVTT Traveling Wall is sponsored by American Legion Post 703 in Parma, with additional support from Tri-C West and the City of Parma. The event still needs volunteers, and those who wish to participate are encouraged to send an email to crystaljardine15@gmail.com.
"We are so honored to have the AVTT and Traveling Wall in Parma," said Parma Mayor Tim DeGeeter. "We respect and honor those who have served and are currently serving in our country's armed forces. The Traveling Wall specifically honors those who gave their lives in the Vietnam War, and we are humbled to host this recognition."
Jeannie Roberts
Communications Director for the City of Parma
Read More on News
Volume 10, Issue 6, Posted 12:36 PM, 06.02.2018