All Saints Episcopal Church June Community Report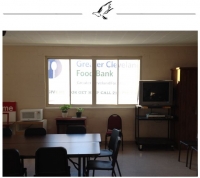 All Saints Episcopal Church in Parma, Ohio, celebrated its 46th monthly food distribution on Saturday, June 16th. It was warm with a few threatening clouds, but no rain fell on our 38 volunteers and hundreds of guests.
We distributed more than 12,400 pounds of perishable food to 280 households(inhabited by 696 residents) in 21 northeast Ohio zip codes. Seniors lived in 70% of the households. Fifty-seven new households were served this month.
Year-to-date We have distributed more than 62,000 pounds of perishable food to 1,216 households (542 unique) in 28 northeast Ohio zip codes.
Our next event is scheduled for Saturday, July 21st at 9:00 am.
As always, our thanks to the Greater Cleveland Food Bank, the Episcopal Diocese of Ohio, the City of Parma, and to our loyal volunteers for their steady support. We couldn't do this without you.
We are thrilled to be able to serve our community in this meaningful way.

Jeffrey Fowler
Jeffrey Fowler is the Hunger Program Coordinator at All Saints Episcopal Church.
Read More on
Volume 10, Issue 7, Posted 3:13 PM, 07.01.2018