New Era In First Responder Training Launched At Tri-C's Western Campus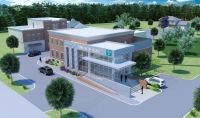 Cuyahoga Community College (Tri-C®) will elevate first responder training with the construction of Simulation Village at the KeyBank Public Safety Training Center at Western Campus. A streetscape with buildings representing commercial and residential spaces will serve as the center of Simulation Village. The mock town will allow for training drills that more closely reflect real-life settings faced by police, firefighters and rescue workers.
A groundbreaking ceremony for the $17 million project took place at the end of June. The new training ground will serve as a resource for cadets preparing to join safety forces as well as veterans honing their skills. "The goal of Simulation Village is to provide first responder training that leads to safer streets, safer neighborhoods and a safer community," said Alex Johnson, president of Tri-C. "The lessons learned here will save lives."
Simulation Village will include three commercial buildings — including one modeled after a gas station — plus a residential structure. Buildings will feature moveable interior wall systems to create different scenarios. In addition to the mock village, plans call for construction of a 14,300-square-foot center with a mock 9-1-1 call center, classrooms and a high-tech video training simulator.
Voter approval of Tri-C's bond issue request in November made the project possible. Approval of Issue 61 raised $227.5 million for the College to create new instructional space, keep pace with changing technology and address decades of wear and tear on buildings.
Simulation Village is one of several construction projects launching this year. Work also has begun on the new Western Campus STEM Center in Parma, the Westshore Campus Center in Westlake and an expansion of the Advanced Technology Training Center in Cleveland.
To keep track of progress on Tri-C projects, visit www.tri-c.edu/ConstructionUpdates.
John Horton
Media Relations Manager at Cuyahoga Community College
Read More on News
Volume 10, Issue 7, Posted 3:12 PM, 07.01.2018