Parma Heights Resident Is Semifinalist In The World's Largest Speech Contest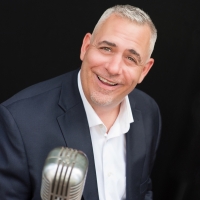 Rob Telecky, of Parma Heights, Ohio, outshined more than 300 local contestants to win the district-level competition of the Toastmasters International Speech Contest. Telecky advances to the semifinal rounds of the contest, vying for one of 10 spots in the World Championship of Public Speaking® to be held at the Toastmasters International Convention Saturday, Aug. 25 in Chicago, IL.
Telecky, a member of Case Western Reserve University Toastmasters Club in Cleveland, OH, surpassed fierce competition to win over the judges with his speech, "One Day." The speech touched on the themes of gratitude, compassion and appreciation. When it comes to connecting with an audience, he said, "The key is delivering the message with strong, convincing emotion, which is relevant to my story."
Telecky will compete with 105 other winners from districts around the world who advanced to the 2018 semifinal round after a six-month process of elimination through club, area, division and district speech competitions. Their five- to seven-minute speeches were judged on content, organization, gestures and style.
"Toastmasters is a way to find your voice. We have much to teach and learn from each other. Focus on who you are and what you want to say, and it will all come together," says Telecky. "I am looking forward to embracing the stage in Chicago. It is an honor." Telecky is a licensed auctioneer, realtor, speaker and occasional stand-up comedian. He originallyjoined Toastmasters to improve his skill as a comedian, but now his attention is on using his experience and humor to inspire.
The Toastmasters International Speech Contest began in 1938 and is the world's largest speech contest, involving 30,000 participants from 141 countries. It culminates with the popular World Championship of Public Speaking held annually at the organization's International Convention.
To interview Telecky, learn more about the contest or Toastmasters club membership, contact Monica Reusser, District Public Relations Manager reussers@att.net. Follow @Toastmasters International on Twitter to track Telecky's progress.
About District 10
District 10 is one of 106 districts, which comprises more than 100 corporate and community clubs in Region 6. To learn more about District 10, please visit:www.district10.org.
About Toastmasters International
Toastmasters International is a worldwide nonprofit educational organization that empowers individuals to become more effective communicators and leaders. Headquartered in Englewood, Colo., the organization's membership exceeds 352,000 in more than 16,400 clubs in 141 countries. Since 1924, Toastmasters International has helped people from diverse backgrounds become more confident speakers, communicators and leaders. For information about local Toastmasters clubs, please visit www.toastmasters.org. Follow @Toastmasters on Twitter.
Molly Ketcham
Molly Ketcham is the 2017-2018 Public Relations Manager for Toastmasters District 10.
Read More on News
Volume 10, Issue 7, Posted 3:13 PM, 07.01.2018