Take 5 Oil Change Collects Donations to Benefit Children's Miracle Network Hospitals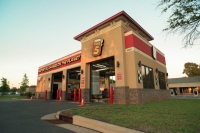 With millions of children facing sickness and other challenges in hospitals across the country every year, Take 5 Oil Change is taking an active role in supporting those children in partnership with Children's Miracle Network Hospitals.
From now until June 30, all Take 5 Oil Change locations across the nation are collecting donations in support of Children's Miracle Network Hospitals, a national nonprofit organization dedicated to raising funds and awareness for nearly 170 local children's hospitals in its network across the country. Through this giveback initiative, all Take 5 customers will have the opportunity during payment to donate anywhere from $1 to $5, which will go directly to their local Children's Miracle Network Hospital.
"It is an absolute honor to partner with Children's Miracle Network Hospitals each year as we approach Father's Day," said Gabe Mendoza, president of Take 5 Oil Change. "We hope that this year our customers are as enthusiastic about supporting such an incredible organization that dedicates an immense amount of time and resources to improving the lives and health of children. Take 5 is proud to make a difference and have our customers become involved in the experience as well."
As the fundraiser continues through the end of June, Take 5 has already raised more than $200,000 this year to date in honor of Children's Miracle Network Hospitals.
A goal amount of $500,000 has been set by the Take 5 team, but they are ready to do everything in their power to rise above and beyond this year's fundraising expectations.
Children's Miracle Network Hospitals is a North American non-profit organization that is on the mission to raise funds for children's hospitals, medical research and community awareness of children's health issues across the country. On average, more than 10 million kids enter children's hospitals across North America every year and since 1983, Children's Miracle Network Hospitals has helped to provide the proper donations and community support that hospitals need in order to provide the best care.
"Partnering with an organization that has been dedicated to helping children in each of the local communities it serves for 35 years is something that we take immense pride in," added Mendoza. "Knowing that our donations, including the funds raised through our customers, will be immediately invested back into our local children's hospitalsto purchase life-saving medical equipment and care is why we continue to partner with this organization year after year."
For more information on Take 5, please visit www.take5oilchange.comor call 855-MyTake5.
About Take 5 Oil Change
Founded in 1984 in Metairie, Louisiana, Take 5 Oil Changeis revered as the "Fastest Oil Change on the Planet." Today, there are nearly 300 locations in the Take 5 Oil Change system in 13 states. The brand commands consumer demand with its convenient, drive-thru oil change service completed in less than 10 minutes.
For more information about Take 5 Oil Change, visit https://www.take5oilchange.comand to learn about available franchising opportunities, email Logan Sumner at Logan.Sumner@drivenbrands.com.
Read More on
Volume 10, Issue 7, Posted 3:13 PM, 07.01.2018