West Creek Greenway Grows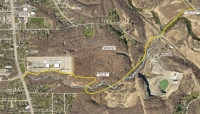 Hemlock Creek Trail construction begins in Independence; will help link Parma's West Creek Reservation to Towpath Trail.
(June 2018) - On National Trails Day, June 2nd, over 80 officials, trail enthusiasts, and project partners gathered in Independence to celebrate the groundbreaking for Hemlock Creek Trail. The 1.7-mile trail is part of the West Creek Greenway, an evolving 25-mile network of public trails and conservation lands radiating from the West Creek valley in Parma. The Hemlock Creek segment will link the Greenway directly to the Towpath Trail. A second connection of the Greenway to the Towpath will be three miles north in Cuyahoga Heights.
In addressing the audience, Independence Mayor Anthony Togliatti, host of the groundbreaking ceremony, noted, "Of all the community connections to the [Cuyahoga Valley] National Park's amenities that we are fortunate to have, the Hemlock Creek Trail will be the most extensive. Completion of the trail will ensure that our residents, daily workforce, and visitors can enjoy safe access to some of the most treasured natural assets in Northeast Ohio."
The concept of the West Creek Greenway originated some 20 years ago with West Creek Conservancy founder Dave Vasarhelyi. Public support grew steadily as the Conservancy rallied citizens and civic leaders. A central hub for the trails and conservation lands of the Greenway is the section now known as West Creek Reservation, a natural area once threatened with development but saved by the citizens of Parma and West Creek Conservancy in 1998. It became a Cleveland Metroparks reservation in 2006, and continues to grow due to the ongoing land acquisition efforts of the Conservancy.
Named for the stream flowing prominently through the heart of Independence, and whose course it will closely follow, the Hemlock Creek Trail will become the largest community connector to date along Ohio's 110-mile Towpath Trail, which when finished will extend south along the old Ohio & Erie Canal corridor from Lake Erie at Cleveland to New Philadelphia, Ohio.
The 10-foot wide asphalt all-purpose Hemlock Creek Trail will extend from Brecksville Road at Selig Drive, past the Cleveland Clinic Business Operations Center, and follow Hemlock Creek through parts of the former William H. Hunt estate in the national park. A 200-foot pedestrian bridge across the Cuyahoga River will rejoin the long-separated parts of Stone Road. Once east of the river, Hemlock Creek Trail will follow the abandoned length of Stone Road in the Village of Valley View to join the Towpath.
"This project has been a key element of the West Creek Greenway plan for more than a decade," said West Creek Conservancy Executive Director Derek Schafer. "Hemlock Creek Trail will help enable our 25-mile intercommunity recreation and green space system through Independence, Seven Hills, Parma, Parma Heights, and Brooklyn Heights. In addition to connecting these areas to each other, this will link them to our national park, three Cleveland Metropark reservations, and many other regional destinations."
We applaud the City of Independence for their perseverance in seeing the project through to this exciting moment. The City and our other partners have made Hemlock Creek Trail possible. Now and for generations to come, this trail will benefit community residents throughout our region not only as a basic amenity, but as a natural engine for health, growth, and prosperity.
Completion of Hemlock Creek Trail is slated for spring of 2019. Meanwhile, West Creek Conservancy will provide updates and free guided walks along the developing Trail and other parts of the West Creek Greenway to showcase the scenic and historic nature of the area. (The next Greenway walk is set for Sat. July 14th from Parma's Henninger Homestead.) Visit westcreek.org for the latest news on these activities and other Conservancy projects or call 216-749-3720 to be placed on the notification list.
_________________________
About West Creek Conservancy
West Creek Conservancy has been connecting people to nature since its founding in 1997. Its mission is to enrich the lives of people in Greater Cleveland by conserving natural habitats, restoring the ecological value and sustainability of urban lands, and expanding neighborhood opportunities to experience nature. As a land trust serving Greater Cleveland, the Conservancy permanently protects lands by acquiring property and conservation easements, and providing ongoing stewardship. West Creek Conservancy is a donor-supported 501(c)(3) organization.
Hemlock Creek Trail. The 1.7-mile segment of the West Creek Greenway will extend east through Cuyahoga Valley National Park from Brecksville Road in Independence to the Ohio & Erie Canal Towpath Trail in Valley View. (Map courtesy City of Independence)
A perfect event for National Trails Day. Construction of Hemlock Creek Trail, a segment of the West Creek Greenway, formally kicked off with a June 2nd groundbreaking in Independence. The event was held next to the Cleveland Clinic Business Operations Center, 6801 Brecksville Road.
Jeff Lennartz
Jeff Lennartz chairs the Board of Directors of West Creek Conservancy. As a founding member of the Conservancy, Canalway Partners, and other local environmental groups, he has spent decades leading efforts to protect and showcase the natural and historic heritage of Greater Cleveland. Raised in Parma, Jeff is a chemical engineer by day and lives with his wife in Cleveland's Old Brooklyn neighborhood.
Read More on News
Volume 10, Issue 7, Posted 3:13 PM, 07.01.2018