A Tribute ~ Traveling Vietnam Wall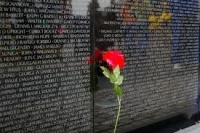 The AVTT Traveling Vietnam Wall was on display at the Cuyahoga Community College's Western Campus the weekend of June 28 - July 1, 2018. With temperatures soaring in the upper 90's, I viewed the Livestream video from the comfort of my home. In spite of the oppressive heat, hundreds of visitors arrived to pay tribute to the 58,318 soldiers, casualties of war. As my eyes gazed across 360-foot-long wall, I was reminded of the two memorial plaques displayed at the entrance of my high school as a tribute to those many students who lost their lives in the Vietnam war. I knew these boys. They were my classmates, my friends. I remember their smiles. Their voices now fall silent at the wall. The impact of seeing the thousands of names left me overwhelmed.
I watched as men, women, and families walked along the path clutching small pieces of paper bearing the names of their loved ones, their comrades, their brothers, family and friends. Unexpected tears blurred my vision along with an uncomfortable tightness in my throat. Hundreds of people arrived to pay tribute. War and age had taken toll on those who served. I was thankful they made it home. One by one, they stood at the wall to touch a name. Finally, they stepped back, offered a silent salute, and bowed their head. As I listened to the audio, I could hear birds chirping along with the faint sounds of weeping. I could barely breath, the loss had become tangible. I couldn't imagine what must it be like to be there in person.
Flags from each branch of the military waved in the gentle breeze. The POW flag front and center was an overwhelming reminder of the 2,500 Americans held as prisoners of war missing in action. This day, this moment, was perhaps the only connection for those who mourned their loss. I was proud and humbled to watch as strangers stopped to shake hands, salute one another, hug one another, stand in silence and often weep together. Words were not necessary. I watch their postures return to the stature of the young men they once were as they stood at attention and saluted their comrades whose names were written on the wall.
Silence brought with it heartfelt emotions. I wondered what thoughts possessed the men who stood in the intense heat. It was as if for a few moments, they were back in Vietnam with their brothers. They walk on with visible and invisible wounds. Evening services brought the day to a close with a prayer vigil. As the crowd slowly walked by, a soldier appeared among them in uniform. He marched at a slow ceremonial pace. Each one of his steps was carried out with cadence and precision in honor of his fallen comrades.
Tears continued to be wiped from behind sunglasses. My heart was breaking not only for those whose names were written on the wall, but for those who remain here missing them so greatly.
The respect and gratitude shown at the wall by today's generation of men, women, and children are a tribute to the many men and women who sacrificed their lives in the Vietnam war. We will always remember.
~ WELCOME HOME SOLDIER ~
Names etched in granite
Soldiers forever honored
Rest now with angels

Susan Banks - Yurik
I am a Parma resident. Attended Pleasant Valley Jr. High, Valley Forge Senior High, Parma Senior High, and Tri-C. I am retired; and have been published in Guideposts, Mysterious Ways and Angels On Earth. I also create Iconographic style drawings. My son was a Navy Nuk, my daughter was Miss Parma, and runner up to Miss Ohio. Three generations of our family attended Thoreau Park Elementary School, Schaaf Jr. High School and Parma High School. I love living in Parma, and I especially enjoy the city's unique European ethnicity.
Read More on News
Volume 10, Issue 8, Posted 11:24 AM, 08.01.2018