Brayson's Ice Cream Parlor Provides A Step Back In Time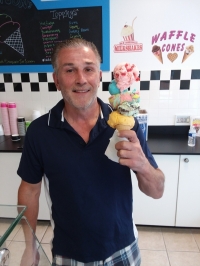 If you're a fan of old-fashioned ice cream parlors, read on.
Brayson's, located at the corner of Ridge Road and Essen Avenue at 5480 Ridge Road, fills the bill.
It opened May 1, and is named for Brady and Mason, the three-year-old twin grandsons of Jim Fritsche. He built the building and did the décor himself.
"I have a passion for the old style ice cream parlor," he said, standing behind the counter of his cozy establishment that features a blue and white color scheme with black and white checkerboard tile on the floor.
Fritsche offers customers 30 different flavors of ice cream, root beer floats, milkshakes and banana splits.
He calls Brayson's "a neighborhood walk-up ice cream store."
"We're still learning the business," Fritsche said. "We keep adding things. To come are waffle sundaes and 8-10 different kinds of ice cream sandwiches. Fritsche said he also plans to add a jukebox.
"All dogs (who come in with their owners) get free ice cream," he said. "I'm a dog lover."
Fritsche said the response has been very good since the May opening.
"Everybody seems to like the ice cream – the response I'm getting is repeat customers. I love my ice cream."
Spend even a few minutes at Brayson's and you will no doubt see Fritsche dip into a dish he keeps on a side counter.
"I'm here seven nights a week," he said.
His favorite flavor is Black Raspberry Truffle. Best sellers (so far) are Peanut Butter, Superman, Cookie Monster and Salted Caramel.
Single servings (cone or cup) are $3, with doubles for $5. The ice cream is homemade but not made on premise.
Fritsche's passion for ice cream is a part-time endeavor. His full-time job is as a hockey coach for the Cleveland Jacks organization.
"Our family has been a hockey family for a very long time," he said. His son, Danny, 33, played professionally for the New York Rangers, while son, Tommy, 31, played at the Ohio State University and then for the Cleveland Monsters organization.
Fritsche, who is divorced, is also father to Elizabeth, 29, and Christine.
His favorite part of owning his own ice cream store?
"I enjoy talking to the customers," he said.
Brayson's will close for the season on November 1, and re-open in April 2019, Fritsche said.
You can follow them on Facebook by clicking on the following link:
Rick Haase
Rick Haase is a freelance writer from Parma Heights.
Read More on News
Volume 10, Issue 8, Posted 11:24 AM, 08.01.2018