9th Annual India Festival USA 2018 Saturday Sep. 15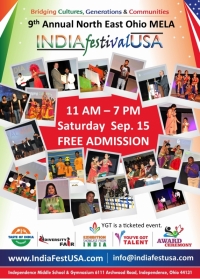 India Festival USA (Not-for-profit organization) mission is to bridge cultures, generations and communities through one-day of togetherness. It is a day when visitors are encouraged to participate in a thematic display of the rich culture and diversity of two of the greatest nations on earth – India and USA. India Festival USA promises an immersive environment that salutes history, embraces globalization, celebrates communities, and embraces diversity.
9th Annual India Festival USA will be held on Sat. Sep. 15, 2018 at Independence Middle School from 10 am - 7 pm.
Festival Summary (2010 - 2017):
FREE PARKING, Admission to Exhibition, Taste of India
Kid's Activities, Open to all communities, Family Friendly
Proclamations from City of Independence, Cleveland, Broadview Hts., Parma, Westlake, Strongsville
Proclamations from Ohio Governor
Over 25,000 visitors since 2010.
More than $14k donated to local organizations & charity
You've Got Talent Competition – Over 1200 participants
Admission to Festival is FREE and open to all communities. 2018 Festival will be attended by Mayors & representiatives from City of Cleveland, City of Broadview Hts., City of Cleveland, City of Parma, and City of Westlake.
More details available at www.IndiaFestUSA.com FB page www.facebook.com/IndiaFestUSA
Bharat Kumar
Founder & President of India Festival USA (Not-for-profit) organization.
Read More on News
Volume 10, Issue 9, Posted 3:39 PM, 09.02.2018