Eleanor Roosevelt To Visit The Parma Heights Library September 19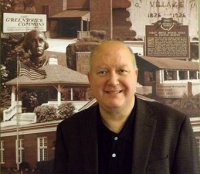 If you love history and First Ladies, this program is for you. The Parma Heights Library will present a portrayal of Eleanor Roosevelt by local educator Ruth Pangrace from 7-8 p.m. Wednesday, September 19 in Meeting Room C50. The presentation is sponsored by the Friends of the Parma Heights Library. Pangrace is a part of Women in History – Ohio. Women in History is dedicated to the education of all people, regardless of age, race or socio-economic status through the dramatic recreation of the lives of notable women in the history of the United States of America. Pangrace joined Women in History in 1998 and portrays Eleanor Roosevelt, First Lady Florence Harding, Puritan Ann Hutchinson, Civil War spy Elizabeth (Crazy Bett) Van Lew, Harriet Beecher Stowe, Molly Pitcher, gossip columnist Louella Parsons and Empress of Modern Art Louise Nevelson.
Pangrace is quoted on the Women in History -- Ohio website as saying: "Women in History gives me an opportunity to explore and discover notable women's stories that often are buried in our nation's history. Sharing these stories with audiences of all ages is an exhilarating experience. Also, I love the spirit of sisterhood among the Women in History actress educators. Their talents, dedication and passion never cease to amaze and inspire me. I am so grateful to be part of this group!"

She has a Bachelor of Arts degree in Art Education grades K-12, and a Master of Education degree in Gifted Education. She currently teaches social studies and history at Harding Middle School in Lakewood.
Pangrace also coaches Power of the Pen, Middle School Mock Trial and Middle School Academic Challenge teams. She resides with her husband in Rocky River and has three grown children and two grandchildren. The entire family enjoys sailing and are always on the lookout for new female historical characters to develop and shopping for vintage clothing and hats to wear
According to Pangrace, again quoting from the Women in History -- Ohio website, "My most memorable moment was my first performance, an ensemble presentation with four characters each telling her story in turn, except that my cue line was accidentally dropped and the performance ended before I actually shared my dramatization. I wasn't sure what I should do. After an awkward, frozen moment, the actress playing Bessie Coleman finally stood up, strode across the stage right up to me and asked, "So what is your story?" I knew from that moment on that even though there could be rough spots, this was a group of women that would be there to help each other in any circumstances."

Other memorable moments occurred while answering children's questions as Harriet Beecher Stowe, author of Uncle Tom's Cabin. "How long was that book? Did her kids have to read it? Is that your real hair? What is under that skirt that makes your behind look so big?"
The presentation is free and open to the public.
MORE FROM THE LIBRARY – Don't miss "Putting the Garden to Bed," also at the Parma Heights Library on Thursday, September 20, 2018 at 7 p.m.
The program will discuss all the things a person needs to do to prepare the garden for winter. It includes a useful discussion of lawns, flower beds, vegetable gardens, container gardens, shrubs, bulbs and tool care.
AN IMPORTANT REMINDER – Refuse collection in the city will be delayed from Wednesday, September 5 until Thursday, September 6 because of the Labor Day Holiday.
ARE YOU DOING YOUR FALL GARAGE CLEANING? -- Then you will want not to miss the city's Scrap Tire Collection Saturday, September 8 and 22.
The event, sponsored by the city Service Department, will take place from 9 a.m. to Noon at the Service Garage in the Greenbrier Commons.
Residents may drop off residential passenger tires. No tires with rims greater than 20 inches will be accepted. Tires must be off rims.
Rick Haase
Rick Haase is a freelance writer from Parma Heights.
Read More on Parma Heights
Volume 10, Issue 9, Posted 3:37 PM, 09.02.2018