Parma Fine Arts Council - Member Events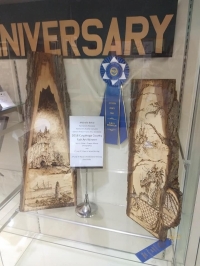 Michelle Behal, Parma Fine Arts President, and acrylic painting instructor, demonstrated her pyrotechnical (wood burning) skills at the Cuyahoga County Fair. Michelle also won Best In Show for her Dragon Wood Burning. She also received first and second place in wood burning and second and third place for her pen and ink. Her winning entries are currently on display in the lobby of the Donna Smallwood Activity Center. To view more of her creations visit www.beartracksart.com, or follow Bear Tracks Art on Facebook page.
Anthony DeMarco participated in the Richfield-Hinkley Art Groups annual show at the Farnam Manor, where 31 artists showed their work.
Donata Rahne has been the art instructor at Sunrise In Parma's Memory Care Unit on Broadview Road for the last couple of years. She stated it is very rewarding to work with these individuals.
Kathy Kijek participated in the 2nd Annual Haunted House Garage Sale at the Bay Village Community House. Kathy created outdoor Halloween Solar Lanterns for sale, pumpkin, vampire and ghost. These were very popular, and few remain.
Katrina Lindsley, wife of board member Craig Lindsley, and PAFAC volunteer, has been selling her craft items for more than 15 years now. She makes soaps, wax melts, and her most popular item, smelly jelly air fresheners. You will find her at craft shows like Ridgewood UMC, Holy Spirit and St, John Byzantine Church. Recently, she was invited to become part of The House of Wilhelm, formally an antique store in Strongsville, that reopened as a handmade crafters shop. Katrina's handmade items sell under the banner of her faith based company called Devotions.
Sean Mabin, instructor at Parma Area Fine Arts Council participated in the Rooms To Let: CLE event in Slavic Village. This was their fifth year. Dozens of artists transform buildings set for demolition, and create installations on vacant lots. Live entertainment is also provided at this event. He also had two of his works in the Can't Triennial, at Church of Art in the Waterloo Arts District.
Emery Bogardy will be appearing at the 63rd annual Hungarian Festival on Sunday, September 2nd at German Central Farm. Lots of good ethnic food and pastry, live music and entertainment throughout the day. Raffle prizes, soccer matches, live animal shows, book fair, folk arts & crafts and novelty items will be for sale. Emery is a board member and watercolor instructor at Parma Area Fine Arts. He will be selling his original watercolor paintings and prints. For a preview of his work go to www.bogardyarts.com.
Kathryn Mabin
Board Secretary of Parma Area Fine Arts Council, Inc, or PAFAC, and Artist/Jewlery Designer, Owner Aire of Oppulence.
Read More on News
Volume 10, Issue 9, Posted 3:37 PM, 09.02.2018