Demolition Work Underway At Parmadale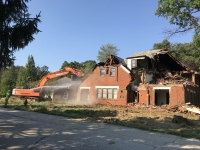 Demolition work is underway at the former Parmadale Orphanage as part of a redevelopment project to clear nearly 80 acres for greenspace, public park development and watershed conservation at the site. In late September, crews started to demolish 13 old dormitories at the site after Cuyahoga County awarded $1.35 million toward the project. The funding also includes the demolition of four blighted Parma properties at 7259 Ridge Road, 11599 Kader Ave., 4418 Pershing Ave. and 7407 Dorothy Ave. "The addition of the Parmadale land to the West Creek Conservancy also will create new access to the reservation for thousands of citizens," said West Creek Conservancy Executive Director Derek Schafer.
The demolition is the major step forward for the project after West Creek Conservancy bought the property from the Catholic Charities Diocese of Cleveland for $1.75, of which $1.5 million came from a Clean Ohio grant and $250,000 from the Cleveland Metroparks, which partners with West Creek. While the city of Parma agreed to take interim ownership, West Creek is tasked with reclaiming the site and leveraging funding to re-dedicate the former Parmadale campus –which originally opened in 1925 – as public park land. Said Mayor Tim DeGeeter, "The re-envisioning of Parmadale is West Creek's most significant undertaking since the reservation's creation and will be transformative for the conservancy and the city."
DeGeeter said the project not only reflects Parma's motto, "Progress Through Partnerships," but also a new beginning.
"We are thankful for the efforts of County Executive Armond Budish and County Councilman Scott Tuma for recognizing the project's importance by helping secure the funds for the demolition," he said. "I also applaud Derek Schafer for his leadership and seeing an opportunity that will benefit Parma and the region."
Carolyn Kovach
Communications Director, City of Parma, Mayor's Office
Read More on News
Volume 10, Issue 10, Posted 11:42 AM, 10.01.2018