Mayors Address The Community At October 25 Chamber Luncheon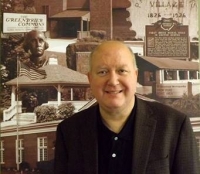 You won't want to miss this one! The Parma Area Chamber of Commerce will host its October 25 luncheon at Holy Spirit Hall on West 54th Street. Keynote speakers will be the Mayors of Parma, Parma Heights and Seven Hills – Tim DeGeeter, Mike Byrne and Richard Dell'Aquilla. Networking begins at 11:30 a.m. with lunch served at Noon by WalTam's Catering. Cost is $18 per person, and you can R.S.V.P. to Cheryl McIntosh at 440.886.1700 or via e-mail to chamber@parmaareachamber.org. Holy Spirit Church and Hall is located at 5500 West 54th Street, south of Brookpark Road.
PSYCHIC FAIR – Yorktown Lanes, 6218 Pearl Road, Parma Heights, will host a psychic fair from 11 a.m. to 5 p.m. Sunday, October 7. Admission to the event is free. Featured guests will include: Melinda Carver, Theresa Manjas, Rev. Tim Brainard, Carol Gallardo, Eva Star, William Morgan, Terra Danielle Dixon and Rev. Betty Demchak. Readings will be available for $25. Psychics and Mediums will be on hand, along with Tarot card readers. Astrology jewelry and crystals will be available for sale. For more information, call 440.886.5300.
SPEAKING OF YORKTOWN… The sixth annual Hunter Station Sportsman's Club and Yorktown Lanes Clambake will be held Saturday, October 20 in the Yorktown Lanes Party Room, 6218 Pearl Road. Doors will open at 6 p.m., with dinner served at 7 p.m. Cost is $35 per person and that includes draft beer and soda. The menu features two dozen middle neck clams, clam chowder, clam broth, tossed salad with assorted dressings, rolls and butter, one-half roasted chicken, sweet potato, corn on the cob, steamed mussels, an assorted vegetable platter, coffee and miniature pastries for dessert. A cash bar will be available. The event will also feature quickie boards and 50/50 raffle. For reservations call Larry Mieyal, Jr. at 216. 316.9029 or Mike Cottrell at 440.886.5300.
LITTLE SHOP OF HORRORS – The Cassidy Theatre will present the Broadway and Hollywood sci-fi smash musical Little Shop of Horrors from October 5-21 on the theatre main stage. Little Shop has captured the hearts of theatre-goers for over 30 years. Howard Ashman (book and lyrics) and Alan Menken (music, Disney's The Little Mermaid, Beauty and the Beast and Alladin) are the creative geniuses behind what has become one of the most popular shows in the world. This production is based on the film by Roger Corman, with screenplay by Charles Griffith. The meek floral assistant Seymour Krelborn stumbles across a new breed of plant he names "Audrey II," after his co-worker crush. The foul-mouthed singing carnivore promises unending fame and fortune to the down-and-out Krelborn as long as he keeps feeding it blood. Over time, Krelborn discovers the plants' out-of-this world origins and intent toward global domination. Little Shop was originally produced by the WPA Theatre, Producing Director Kyle Renick, and was also originally produced at the Orpheum Theatre in New York City by the WPA Theatre, David Geffen, Cameron Mackintosh and the Shubert Organization. For reservations, call the Cassidy Theatre box office at 440.842.4600 or visit www.cassidytheatre.com.
GHOSTLY FUN – Two upcoming programs at the Cuyahoga County Public Library Parma Heights Branch will get you in the mood for the upcoming observance of Halloween. From 7-8:30 p.m. Thursday, October 4 in the library's Meeting Room C, Sara Showman of Largely Literary Theatre, will present the program, "Ghosts of the Civil War," during which she will perform ghost stories from the South, including various literary selections and period songs. Then, from 2-3:30 p.m. Saturday, October 27 in the library's Meeting Room A, Dia de los Muertos, or Day of the Dead, will be presented. During this program, you'll be able to learn about this holiday celebrated throughout Mexico. A discussion of the graphic novel Ghosts, by Raina Telgemeier will take place, followed by decorating of sugar skulls. The program will also feature a discussion about other symbols that have deep meaning in both Mexican customs and culture. Nicholas Cronin is the Library Branch Manager. For more information, visit www.cuyahogalibrary.org, or you can call the Parma Heights branch directly at 440.884.2313. The branch is located at 6206 Pearl Road in the Greenbrier Commons complex.
ANOTHER LIBRARY PROGRAM YOU DON'T WANT TO MISS – From 2-3 p.m. Saturday, October 20 the Parma Heights Library will present the Brick Builders Club program. The library will supply the bricks if your child supplies the imagination. This program will be held in Meeting Room A. Registration is required. Go to www.cuyahogalibrary.org, or call 440.884.2313.
TRICK OR TREAT – Halloween will be observed in the City of Parma Heights from 6-8 p.m. on Wednesday, October 31. If you are participating in the handing out of candy to youngsters, please turn on your front porch light.
BE AWARE – October is Breast Cancer Awareness Month.
AN IMPORTANT DEADLINE -- The deadline to register to vote or change your address for the November 6th general election is October 9th. Update online at www.443VOTE.com or at any branch of the Cuyahoga County Library.
You can vote by mail now. Visit the BOE website www.443VOTE.com to receive a ballot application. Ballots must be postmarked on or before November 5th.
GREENBRIER ART LEAGUE SHOW – Mark your calendars for Saturday and Sunday, October 13 and 14, when the Greenbrier Art League will present an art show open to the community at the Cassidy Theatre. For details, call Susan Kiedio at 440.845.5373.
HOUSEHOLD HAZARDOUS WASTE COLLECTION – The City of Parma Heights Service Garage will be the site of the fall Household Hazardous Waste Collection event from 9 a.m. to Noon on Saturday, October 27. The Service Garage is located within the Greenbrier Commons complex on Pearl Road.
Want your Parma Heights information featured here? E-mail column items to Rick Haase at rick.haase@sbcglobal.net.
Rick Haase
Rick Haase is a freelance writer from Parma Heights.
Read More on Parma Heights
Volume 10, Issue 10, Posted 11:41 AM, 10.01.2018