Parma Art Scene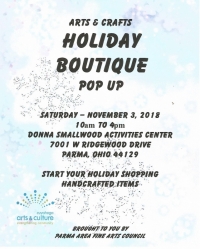 MAKERS WANTED! Looking for artists, crafters, bakers for a Holiday Boutique Pop Up, hosted by Parma Area Fine Arts Council, to be held November 3, 2018 from 10am to 4pm at the Donna Smallwood Activities Center. This boutique is for handmade artisans only. 8 foot spaces available from $20 to $30. Space is limited so don't wait. Call Michelle Behal at 216-618-0956, call Parma Fine Arts at (440)888-4514 and leave message for call back, or email kathrynmabin@att.net for details.
NEW JEWELRY ENAMELING CLASS: Anthony DeMarco, retired Parma High arts instructor, long time Parma Fine Arts Board member, and photographer will be offering low cost classes in Jewelry Enameling, starting in October. This class will be limited in size in order to offer the student individualized attention. Class is filling up fast. Email kathrynmabin@att.net, call (440)888-4514 and leave a message for call back on details.
AFTER SCHOOL YOUTH ART CLASS – Art Exploration with Sean Mabin, for ages 7 to 17. Classes are held Wednesdays 4:30 to 6:30, at the Donna Smallwood Activities Center, 7001 W Ridgewood Dr. Cost is $8 for a two hour class, supplies included. A $5 discount is given for monthly prepayment. The first Wednesday in October the class project will be a Plexikineiscope, which is an old fashioned animated devise. The project for week two and three will be paper mache Day of The Dead skulls. Week four, haunted house drawing. For additional information email kathrynmabin@att.net.
Just in time for Halloween, Sean Mabin, Parma Fine Arts Youth instructor, has his handmade spooky skull and punky earrings for sale at The Mummy and The Monkey's Thrift Crypt located at 13349 Madison Ave.
Craig Lindsley, Parma Fine Arts Board Member, participated in the 2018 Hall of Fame City Comic Con on September 15th. Craig has been touring the comic convention scene this year.
Kathryn Mabin
Board Secretary of Parma Area Fine Arts Council, Inc, or PAFAC, and Artist/Jewlery Designer, Owner Aire of Oppulence.
Read More on News
Volume 10, Issue 10, Posted 11:41 AM, 10.01.2018