PSO To Celebrate 50 Years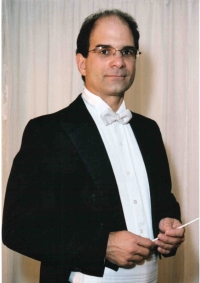 Parma Symphony Orchestra will be celebrating their 50th Anniversary with a concert on Sunday, October 14, 2018 at 3:00 PM at Valley Forge High School Auditorium located at 9999 Independence Boulevard in Parma Heights. Also celebrating: Dr. Randolph P. Laycock 40 Years as Music Director.

Program will include a world premiere of "Celebrations for Orchestra" to be directed by the composer Loris Chobanian to celebrate our two milestones: Our 50th Season and Rand Laycock's 40th anniversary as Music Director. Also featuring Guitar Soloist Brian Reichert performing with the orchestra in "Three Romances for Guitar and Orchestra" also by Chobanian, and two numbers from Rand's first concert with the orchestra Light Cavalry Overture by Franz Von Suppe and Symphony in D minor by Cesar Franck
Loris Chobanian is Professor Emeritus of Composition and Guitar as well as Composer-in-Residence at Baldwin Wallace University Conservatory of Music
Bryan Reichert is a graduate of Baldwin Wallace University (BM 2013), studying under Loris O. Chobanian currently holds a faculty position in Baldwin Wallace University's Community Music School.
The orchestra, in its 50th season consists of 75 members of all walks of life from all over the entire Greater Cleveland area. They meet weekly for rehearsals and present at least four concerts annually.

General admission is $10 for adults and $5 for students and senior citizens. Family passes of $20 are available for families of up to 2 adults and their children. All tickets are available at the door beginning at 2:30 PM.

Parma Symphony Orchestra is a self-supporting community orchestra in cooperation with the Parma City Schools. For more information can be found on Facebook, web-site www.parmasymphony.org or calling Business Manager Joe Germana 440-882-2012.
Dr. Randolph P. Laycock celebrating his 40th season as music director of the Parma Symphony having conducted his first performance with the orchestra on November 19, 1978. Dr. Laycock taught string and wind music for the Parma City Schools for 36 years and was music department chairman for the Valley Forge Cluster. He and was director of Youth Orchestras at Baldwin-Wallace College from 1978-2016. He previously was director of the University Circle Chamber Orchestra from 1987-1994 and was a double bassist in the Ohio Chamber Orchestra, Cleveland Opera and Cleveland Ballet Orchestras. He has also been guest conductor of the Cleveland Philharmonic. His educational duties continue as an adjunct professor of music history and theory at Cuyahoga Community College, as well as the College concert band director.
He received his Ph.D. in Music Education from Case Western Reserve University in 1992, Master of Music from Bowling Green St. University in 1978, and Bachelor of Music Education from Baldwin-Wallace College in 1977. He has been included in six editions of Who's Who Among America's Teachers, and the 58th edition of Who's Who in America. He also worked for the State Department of Education as a Praxis III assessor of entry year teachers from 2003-2008. He was selected as the Outstanding Secondary Arts Educator in Northeast Ohio by Young Audiences of Northeast Ohio in 2007. In 2017, he was the recipient of The Albert Nelson Marquis Lifetime Achievement Award.
His work with area virtuosi is lengthy. He has collaborated with composers Loris Chobanian and Micheal Leese, pianists Alex Wasserman, Spencer Myer, Denise Rosenbaum, Emanuela Friscioni, Jeremy Dittus, and George Cherry; violinists Andrew Sords, Kermit Poling, Hristo Popov, Stephanie Kim, and Mollie Fung; cellists Brian Thornton, Madeline Kabat, Sawyer Thomson; guitarist Marija Temo; Trumpeter John Brndiar; and piper Brian Bigley to name a few. He has also been music director for numerous music theatre productions in the area, including "Showboat", "Man of La Mancha", and "Candide" at the Western Campus of Cuyahoga Community College.

Joe Germana
Independent Insurance Agent and VP of Four Star Insurance Agency Inc. Parma Area Kiwanian, Parma Symphony Orchestra Business Manager and Oboist
Read More on News
Volume 10, Issue 10, Posted 11:41 AM, 10.01.2018