Treat & Greet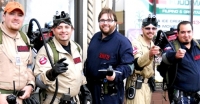 Saturday, October 27th, 2018, Polish Village will hold their 8th Treat & Greet from 11am to 2pm. Treat & Greet is an extremely popular event. Each year it seems to attract more and more participants from our area and the surrounding communities. This is a great, safe, fun family event.
The children, accompanied by an adult, trick-or-treat the businesses located in Polish Village along Ridge Rd., from Pearl & Ridge to Thornton. In addition to the treats at businesses, each family receives a Passport with the names and addresses of the participating businesses. As the family trick-or-treats the businesses they receive a stamp. When the children are finished, or the adults become exhausted, the Passports are turned into the headquarters, located this year at 5734 Ridge Rd. For each 10 businesses visited and passport stamped, the families receive one ticket for entry in a raffle for an array of prizes, like gift baskets and gift certificates from local merchants.
This event is held during daylight hours. The upside for businesses is they receive foot traffic from people who don't normally shop their stores, and gives them the opportunity to introduce themselves to new potential customers. Many of the merchants supplement the candy with trinkets, coupons, or other treats for both children and the adults. Some shops also dress in costume.
Last year Polish Village Parma, a qualified 501(c)3, purchased over 60,000 pieces of candy for this event from funds received through donations, or fund raising. This event is free and open to the public, residency is not required. It is a great way for families to herald the season in a safe friendly environment, and a great way to celebrate the community with your friends, neighbors and shop keepers.
For more information go to www.polishvillageparma.org, or follow Polish Village on Facebook.
Kathryn Mabin
Board Secretary of Parma Area Fine Arts Council, Inc, or PAFAC, and Artist/Jewlery Designer, Owner Aire of Oppulence.
Read More on News
Volume 10, Issue 10, Posted 11:41 AM, 10.01.2018