An Art Gallery Grows In Parma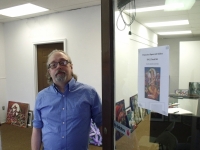 It is no secret that I've often shared my dismay that to my knowledge, there is no commercial art gallery in Parma. Since it is so apparent that the Arts have brought impressive social and economic benefits to the various neighborhoods in the Cleveland Area where they have flourished, I have found it hard to understand why the seventh largest city in Ohio seems to have missed the boat when it comes to this aspect of modern life. Well, it is my distinct pleasure to report that now Parma has what I believe is the first commercial art gallery in our wonderful city.
Sean Mabin, a Parma native who attended the Cleveland Institute of Art where was so fortunate to have been instructed by the world famous Viktor Schreckengost. He has a long relationship with the Parma Area Fine Arts Council, and now has taken the next step and opened his new gallery, named Prama Artspace and Gallery, at 5411 Pearl Rd. Besides being the letters of Parma mixed up a little, the word also means Evidence or Foundation in sanskrit. The first show featured at this brand new gallery begins on November 4 and will last two weeks. It will be exciting to watch this new space for art grow and develop in Parma. Finally someone from the private sector has stepped up and invested their own money to demonstrate that art galleries, besides being magnets for talented artists seeking to display their work to the rest of the world, are also businesses that produce economic development and commercial activity.
Hopefully those who have anticipated growth in the Arts for the Parma Area will be enthusiastic about supporting this new business started by Sean Mabin. The next development will be that a second, third and more art galleries will open in this most walkable section of the city. The neighborhood is actually the birthplace of Parma, the Settlement District, where very close by the first house in Parma was constructed, Fay's Inn, as the historical marker near the intersection of Ridge and Pearl Rd. It is ironic then that this first commercial art gallery (as far as I know) has sprouted in the same place. Let's take this as a sign that there is indeed a new beginning and the Arts will continue to grow and prosper in the Parma Area. Thanks to all the dedicated artists in the Parma Arera Fine Arts Council that worked so hard for so long to keep the Arts alive in our city. Now it is time for the Private Sector to emerge and continue investing in private art galleries as we go forward. Listening, Parma Area Chamber of Commerce?
Daniel P. McCarthy
I am the publisher of the Parma Observer. Lifetime resident of Parma for over 50 years.
Read More on
Volume 10, Issue 11, Posted 5:01 PM, 11.01.2018