Italian American Cultural Foundation Awards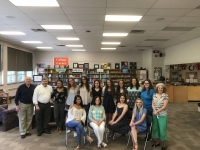 On Wednesday May 23rd, George Mastrobuono, and Rob Lippucci from SWIAC attended the annual awards ceremony for the Italian American Cultural Foundation (IACF) Italian Literature and Language programs, held at Padua High School, 6740 State Road, Parma. Over 40 students, parents, family and friends attended the event held in the 3rd floor library at Padua. Of course there were some good refreshments including pizza and Italian Pastries! The Library has a special section of Italian Culture related books, many of which were procured using donations from SWIAC. The Padua Italian Language program is one of the largest in the area with over 100 students enrolled.
Padua Italian language teacher Carolina Niro, Principal David Stec, and Father Allen Dacorte, Padua President, hosted the event. Connie Sancetta, President and Jerry Polizzi represented the IACF organization. George and Rob had the privilege to help hand out the cash awards and congratulate all of the students. This year was a little bittersweet as we found out that Carolina Niro is retiring after 27 years at Padua. Congratulations and best wishes on your retirement Carolina!
IACF Literature Essay Contest and Language Awards – The IACF program has been in place for well over 20 years and SWIAC has been a sponsor for the past 20 years. The students are invited to read a book from the collection and then write an essay based on their interpretation and how it relates to their own families, traditions and the Italian-American Culture. The essays are reviewed by Connie Sancetta and a panel of local College Professors including Dr. Paola Basile from Lake Erie College. The monetary awards are designated based on the quality of writing and relation of the content to culture and literature.
The IACF also provides other separate awards to four Padua students based on Italian Language achievement in their academic coursework.
George Mastrobuono
Southwest Italian American Club
Read More on
Volume 10, Issue 11, Posted 4:59 PM, 11.01.2018