Annual Parma Christmas Parade Scheduled Sunday, Dec. 2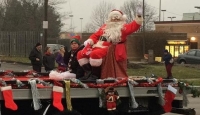 The city of Parma will host a Christmas parade on Sunday, Dec. 2. The parade will step off at 4 p.m. at City Hall, 6611 Ridge Road, and travel south on Ridge to Stearns Homestead at 6975 Ridge Road. At the festively decorated Stearns Homestead, Parma Mayor Tim DeGeeter and other elected officials will participate in the annual tree-lighting ceremony immediately after the parade ends. "We encourage Parma residents to come out and experience these holiday events," DeGeeter said. "We hope Parma residents will watch the parade, join us for the tree lighting and help us kick off the holiday season."
The parade will feature walking and motorized units, marching bands and, of course, a visit from Santa Claus. Side streets along the parade route will be closed 30 minutes before the parade begins and will reopen immediately after it passes. So far, nearly 500 people are participating in the parade. There is still time to register and join the fun.
If your group wants to participate, email parmaparades@gmail.com. In the message, include the organization's name or parade unit, type of unit (walkers, float, car, etc.) and number of people in the unit. For more information, call Chris Knebusch, the parade organizer, at 440-915-2740.
To share this event with neighbors or friends, go to www.facebook.com/events/2135431976488098/.

Carolyn Kovach
Carolyn J. Kovach
Communications Director, City of Parma, Mayor's Office
Read More on
Volume 10, Issue 12, Posted 10:14 AM, 11.27.2018