First Art Show A Major Success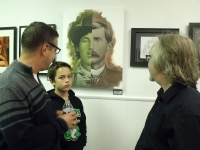 The Prama Art Space and Gallery held their first show on November 4, and the response was very encouraging indeed. Throughout the course of 4 hours that the show lasted, approximately 200 people showed up. That is a very good response, and once again proves for me that while Parma has been lacking in Arts activities for a city our size, this is a sure sign that there is indeed a demand for art here. It should be noted that while some may believe that residents in the community have a lukewarm preference for art, a turnout like this for an initial event seems to suggest that in fact, Parma residents are literally starving for art!
Hopefully other artists and potential gallery owners will take notice and realize that there is a great opportunity in the Parma Area for art galleries and related events to take hold and flourish, as they have in so many other communities in Northeastern Ohio. Take the Gordon Square Arts District in Cleveland for example. When I worked in the rent-to-own business in the 1980's, that area, quite frankly, looked like it had been under attack by a fleet of tanks. Because of the dedicated efforts of many people, the Arts in many forms were introduced and woven into the fabric of the neighborhood, resulting in very impressive changes. Real Estate values increased as high as 185%. Recently in Battery Park, a housing development there, the first $800,000 house was sold. Think about that.
Art is a proven economic development engine. Since our city is only beginning to experience the growth of private sector art activity, the future of such growth represents an exciting opportunity for our community. Our mayor gets it- he was at this first show and saw with his own eyes what is happening. His young son Jack was with him, and impressed everyone with his knowledge and interest in art. He's only 10 years old now, but he may very well have a future in the world of art. Congratulations once again to gallery owner and resident artist Sean Mabin on being a true pioneer of Parma History. Looking forward to future shows and great times for our city!
Daniel P. McCarthy
I am the publisher of the Parma Observer. Lifetime resident of Parma for over 50 years.
Read More on
Volume 10, Issue 12, Posted 10:52 AM, 12.01.2018