The Future Of GM In Parma?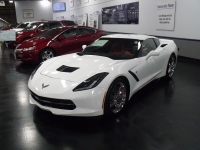 There are some subjects that people talk about all of the time. Some never. Then there are other things that really need to be discussed, even if the discussion is uncomfortable. Our General Motors Parma Metal Center is one of them, I believe. When the recent announcements of plant closings by GM were made, I was disappointed for the places targeted for closure, while also relieved that our plant wasn't one of them- this time. The times that we live in seem to be increasingly uncertain, so one can't help but think of what is in fact our largest taxpayer and major regional employer. Just how important the GM Parma Metal Center is to our community cannot be underestimated. All of my life has been spent living in the shadow of this plant. When I went to school in the 1960's, it seemed like every other kid's Dad worked there. When shifts let out, there were Manhattan style traffic jams as far as the eye could see, as workers streamed out by the thousands. It was easy enough to take it all for granted.
What if in future decisions, our 70 year old plant meets the same fate as those in other places? What kind of devastating impact would that have on Parma and the surrounding communities? How could we fill the giant revenue hole that certainly would result? Are there any long term discussions concerning that unwelcome possibility? These are just some of the questions that we should be asking ourselves if we are serious about meeting the challenges of the future and are willing to plan accordingly. In my mind, we should always hope for the best but plan for the worst. It is far too easy to hope for the best and simply ignore signs of danger until it is too late for any meaningful solutions. Since chance favors the prepared mind, we are always better off when we face the future with many options. When you consider that the GM Parma Metal Center contributes to around half of our annual city budget, increased focus on recent developments concerning GM is absolutely necessary, and most compelling.
Here's the good news, and it does inspire confidence. When I spoke to a General Motors official, I received some information that I am only too glad to share. The GM Parma Metal Center supplies parts to virtually every GM site in North America. We have the largest metal production plant in North America, supplying 30% of metal parts overall. Readers may recall a headline from 2017 where it was revealed that more than $220 million was invested in the facility. I was also informed that the UAW and Management have an excellent relationship at GM Parma Metal Center, and this is also a major factor in the long term stability of the plant.
Parma Mayor Tim DeGeeter is also very optimistic about our GM facility. When I spoke with him he said "GM officials told us that yesterday's announcement wouldn't directly impact the Parma Metal Center". "The facility is going strong and is in a good position. A vast majority of the work at the plant is for SUV's, trucks, and crossovers- precisely where the market is right now", DeGeeter said. I am happy to hear that our current situation seems to be secure, and I sincerely hope that General Motors realizes how much they mean to Parma and how important the more than 70 year relationship is to us. When the motorized vehicles of the future are here one day, I want our plant in Parma to be a major component in the manufacturing process, as it is still in 2018. Let's all keep an eye on this.
Daniel P. McCarthy
I am the publisher of the Parma Observer. Lifetime resident of Parma for over 50 years.
Read More on
Volume 10, Issue 12, Posted 10:52 AM, 12.01.2018