What's With The Flamingo?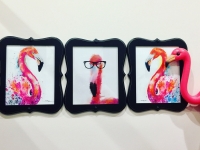 What comes to your mind when you think of Parma? There are many answers depending on who you ask. You have locations such as Stearns Farm, West Creek, or The Shoppes at Parma, and you have both Polish Village and Ukrainian Village. The first thing that comes to mind for many, however, isn't a place at all, but a thing: pink flamingos.
The plastic flamingo became a staple of suburbs throughout the United States shortly after its creation in 1957, and Parma was one of many to adopt this phenomenon. Locally, the flamingos were sold at Kal's Nursery, a staple of Ridge Road for decades, and they were even bought for "Proud of Parma" shows back in the day.
Whether it was reality due to high demand or perception due to a population explosion (between 1950 and 1960 it nearly tripled, going from 28,897 to 82,845), Parma and flamingos became synonymous thanks to none other than Ghoulardi. Ernie Anderson ran Shock Theater from 1963 to 1966, and ran various skits during his time on the air, one of which was Parma Place, a parody of Peyton Place. In the skits, Parma was at times called Amrap (Parma backwards), and the skits included white socks, kielbasa, and of course, pink flamingos.
Parma Place became a hit, but it also earned the ire of many in Parma, perhaps none more significant than the mayor at the time, James Day. Finding it to be a slur on the community, he fought Ghoulardi over Parma Place. Sides were taken, and before long, Parma Place ended as swiftly as it began. The skit ended in 1966 with Shock Theater ending entirely shortly thereafter.
As for what set off the Parma politicians at that time, all I could find was an anecdote from Chuck Schodowski mentioned in the Plain Dealer many years after the fact. During a high school basketball game, a banner was rolled out saying "show us your white socks". One of the many in attendance was Mayor Day's daughter, who relayed it to him, and it spiraled from there.
Whether or not the anecdote is exact, the legacy of Parma and flamingos lives on. In 2013, Flamingo Fever began in Polish Village, where business would have decked out flamingos decorated out by local artists, complete with a banquet and flamingo auction. The local high school girls' rugby team has also joined in the flamingo legacy, naming themselves the Parma Pink Flamingos. Who knows what's next for one of the strongest symbols of the City of Parma.
This blog has been republished from ParmaYPs.com.
Kathie Zipp
Dan Tylicki works for the City of Parma's tax department, and volunteers for the Young Professionals of Parma.

Read More on News
Volume 10, Issue 12, Posted 10:52 AM, 12.01.2018