Cassidy Theatre Announces 2019 Season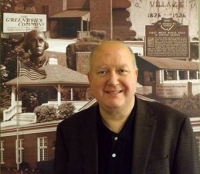 The Cassidy Theatre has announced its 2019 season, and it promises to offer area theatre-goers some surefire fun.
Two standouts of the season are Mama Mia!, no doubt enjoying a resurgence in popularity because of the latest film version featuring Cher, and Footloose. The film certainly has helped give her career a jump start, not to mention she's racking up sales from the accompanying album of Abba-esque music that is flying off the shelves of area music and discount stores this holiday season.
Here's a bit more about each production:
Broadway Bound
February 8 - 24
​By Neil Simon​
Part of a trilogy of plays, preceded by 'Brighton Beach Memoirs' and 'Biloxi Blues,' this story centers on Eugene and his brother Stanley who are trying to break into the world of professional comedy writing (while coping with their parents' messy and gut-wrenching split). When their material is broadcast on the radio for the first time, the rest of the family is upset to hear a comedic rendition of their own trials and tribulations. How will Eugene and his brother balance their loyalties to their family and to their art?
Children of Eden
April 12 - 28
Book by John Caird
Music and Lyrics by Stephen Schwartz
​Based on a concept by Orchestrations by
Charles Lisanby Bruce Coughlin and Martin Erskine
Children of Eden starts with the very beginning: the creation of the universe. Father breathes life into his children, Adam and Eve, and learns that the hardest part of being a loving Father is letting go. It's a lesson that translates into the parenting of Cain, Abel, and Seth -- and is reiterated once again as Noah parents his sons Shem, Ham, and Japheth. This joyous and inspiring musical celebrates the difficulty of choice, the importance of passion, the value of questioning, and the pain in allowing those you love to take risks and face the consequences.
Mama Mia!
June 7 - 23
Book by Catherine Johnson
Music & Lyrics by Benny Andersson & Björn Ulvaeus
On a small Greek island, Sophie dreams of a perfect wedding — one which includes her father giving her away. The problem? Sophie doesn't know who he is. Her mother Donna, the former lead singer of the 1970's pop group Donna and the Dynamos, refuses to talk about the past, so Sophie decides to take matters into her own hands. Sneaking a peek in her mother's old diaries, she discovers three possible fathers: Sam, Bill, and Harry. She secretly invites all three to the wedding, convinced that she'll know her father when she sees him. But when all three turn up, it may not be as clear as she thought. Told through the legendary music of ABBA, Mamma Mia! has become a worldwide sensation.
Lend Me A Tenor
August 16 - September 1
By Ken Ludwig
On a very important night for the Cleveland Grand Opera Company, Tito Mirelli, world-famous Italian tenor, is set to perform the starring role in Othello. Henry Saunders - General Manager of the company - is beyond stressed and insists that his assistant, Max - a nervous, young fellow and secret tenor extraordinaire - watch over Tito's every move to ensure smooth sailing. After a huge fight with his wife Maria, Tito is left unconscious – leaving Max to step in. Throw in Diana, an ambitious, female co-star; Maggie, Max's giddy girlfriend; Julia, head of the opera guild; and a bellhop fighting for Tito's attention, you have a recipe for comedic disaster. Max navigates the company through one catastrophe after the next and, together, Max and Saunders find a way to save the Opera Company's big night.
Footloose
October 11 - 27
Book by Dean Pitchford & Walter Bobbie,
Music by Tom Snow & Jim Steinman, Lyrics by Dean Pitchford
Footloose is the story of Ren McCormack, a teenage boy from Chicago. He and his mother move to the small town of Bomont after his father abandons them. Upon arriving, Ren finds himself at odds with most of the town, including the Reverend Bomont. The Reverend has convinced the town to outlaw dancing, which Ren finds unbelievable. With the help of the Ariel (the Reverend's daughter) and Willard (a country hick who becomes his best friend), Ren convinces the Reverend to let the teenagers dance, and in the process helps the town to heal from a tragedy that affected them all.
Plaid Tidings
December 6 - 22
Book by Stuart Ross
The best of Forever Plaid tied-up in a nifty package with a big Christmas bow on top! Filled with Christmas standards that have all been "Plaid-erized," our boys are back to do their Christmas Special. At first they aren't sure why they've returned, but a phone call from the heavenly Rosemary Clooney lets them know that they're needed to put a little harmony into a discordant world. Sprinkled among the Christmas offerings are audience favorites like their riotous three-minute-and-eleven-second version of "The Ed Sullivan Show" - this time featuring the Rockettes, the Chipmunks and The Vienna Boys Choir, and a Plaid Caribbean Christmas which puts the "Day-O" in Excelsis!
If you've never visited the Cassidy Theatre, it truly is a Parma Heights gem. Located within the Greenbriar Commons complex at 6200 Pearl Road, it has been a part of the fabric of our community since 1974.
Visit www.cassidytheatre.com for more information or call the Box Office at 440.842.4600. Season passes are available for 2019.
HOLIDAY LIGHT AND CHRISTMAS TREE RECYCLING – The city will be recycling holiday lights and Christmas trees. Strings of lights, electrical cords and power strips will be accepted for recycling on Saturdays January 12 and 26, 2019 from 9 a.m. to Noon at the Parma Heights Service Garage in the Greenbrier Commons complex. You must provide proof of residency.
Christmas trees will be recycled at curbside by Republic Waste Collection for composting on Wednesdays, January 9 and 16, 2019. Trees in bags will not be accepted and all ornaments should be removed. Trees placed at the curbside for collection after these dates will not be accepted.
Rick Haase
Rick Haase is a freelance writer from Parma Heights.
Read More on Parma Heights
Volume 11, Issue 1, Posted 12:10 AM, 01.02.2019