Parma Area Celebrates Its Pizza Shops With Bake-Off January 24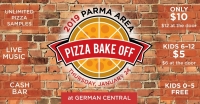 Did you know that the Parma area has more than 20 pizza shops, not even counting chains or bars that serve slices of everybody's favorite pie? With that many shops, The Young Professionals of Parma thought if smaller areas like Lakewood and West Park hold bake-offs, why shouldn't Parma? The non-profit organization is proud to announce it has partnered with the City of Parma, City of Parma Heights and the City of Seven Hills to host a pizza bake-off Thursday, January 24, 2019. The event will take place from 5:30 p.m to 8:30 p.m. at German Central at 7863 York Rd. Attendees will be able to sample pizza slices from various vendors and vote for their favorite.
The event is open to all ages. Tickets are available for purchase online in advance at parmapizza.org. Adults are $10; children ages 6-12 are $5; children ages five and under are free. Tickets will also be available at the door for $12. Tickets include all-you-can-eat pizza samples (pepperoni and cheese) and one pop or water. There will also be a cash bar (credit cards not accepted) serving alcohol.
A 50/50 raffle and baskets will also be available for a chance to win cash and a variety of prizes. The event will also feature live music from local bands.
All local pizza shops in the Tri-City area are invited to participate. The group currently has confirmations from shops including Fratello's Pizza, Napoleon's Pizza, Antonio's Pizza, State Road Pizza, Tony's Pizza, Giovanni's Pizza and more.
The Young Professionals of Parma is a 501(c)(3) non-profit organization striving toward the enhancement of the Greater Parma area. The group provides civic, philanthropic and social opportunities, while supporting and fostering local businesses. Its goal is to promote positivity and city pride. In line with its philanthropic mission, a portion of the event's proceeds will go to the Parma Hunger Center at Parma Lutheran Church.
The event will require a lot of volunteers, and the Young Professionals of Parma expresses thanks for help in advance. Those interested in volunteering will get free entry and can sign up on the website. Sponsorship opportunities are also available and listed on the website.
So come inside from the winter cold and enjoy pizza from the area's array of local ovens, while chowing down for a good cause!
Kathie Zipp
Kathie Zipp is marketing director for the Young Professionals of Parma.
Read More on News
Volume 11, Issue 1, Posted 12:10 AM, 01.02.2019