Parma Heights Mayor Michael P. Byrne Elected To RTA Board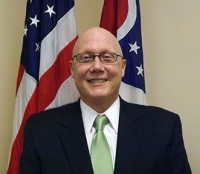 On December 10. 2018 Parma Heights Mayor Michael P. Byrne was elected by the Cuyahoga Mayors and City Managers to a 3 year term on the Greater Cleveland Regional Transit Authority (RTA) Board of Trustees. He replaced Newburgh Heights Mayor Trevor Elkins. This is welcome news to many people in our community that rely on RTA for their major if not only form of transportation. There is a strong hope that having someone from this area serve on the board will improve conditions experienced by riders here which have worsened over the past several years. Speaking for myself, I live on a main street where the nearest RTA route is a long distance from where I live, even for a young person, let alone a 68 year old man. Sometimes it seems that the suburbs are merely an afterthought for RTA planners, even though a good deal of the sales tax which mostly funds RTA comes from those areas.
Mike Byrne is the 14th mayor of Parma Heights. He was elected to City Council in 1998 and served as Council President from 2001 to 2010, when he became Mayor. He graduated from Padua High School in 1974 and received a BA in Management and Urban Studies from Cleveland State University in 1996. He serves on the Board of Cuyahoga County Planning Commission and has made an impact with his "Greening of Parma Heights" initiative introduced in the past 2 years. We certainly all hope that a new voice on the RTA Board of Trustees will mean that new ideas and ways to deal with budgetary issues can result in a more efficient system that spreads satisfaction throughout the service area. Good luck Mike Byrne.
Read More on
Volume 11, Issue 1, Posted 12:10 AM, 01.02.2019