Plant A Future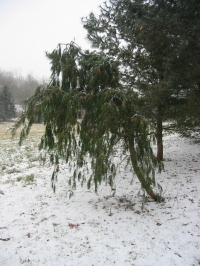 How much thought do people put into the perennials planted in their yards? Some people put great thought into it and certainly some do the opposite. Simple research can greatly assist in creating a wonderful landscape even in the small forty foot Parma lots. Planning a makeover with select perennials can create a beautiful yard that will not just last a few years but several decades.
Evergreens, deciduous trees, and shrubs have numerous cultivars that provide a variety of colors, flowers, backgrounds, shapes, and sizes. Take a look at your yard and decide if it's time for new scenery that lasts. Garden centers and mail order off the internet is the best way research different cultivars that will set your yard apart from all the others. You do not have to settle for the same old over-used plants.
One such example is the Weeping White Pine also known as Pinus strobus 'Pendula.' This cultivar will grow more like a shrub and if it lives long enough may even form an arch to walk under. The specimen shown in the photo started at one foot tall and now 22 years later is about eleven feet tall. It may take another 22 years to reach the desired shape and form. A Google photo search will easily reveal full grown Weeping White Pines for comparison.
Seek out your favorite perennials and cultivars. Instead of instant gratification take the long view. Future generations of people you may not ever know will appreciate it.
William Subjoc
Parma resident since 1988.
Read More on Opinion
Volume 11, Issue 2, Posted 10:34 AM, 02.01.2019