Valley Forge High School Intervention Specialist Releases Second Book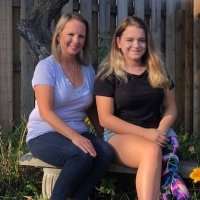 Parma Heights resident and Valley Forge High School Intervention Specialist Libbi Chilia recently released her second book for Halo Publishing International. Chilia is also the co-chair of the Parma City School District Special Education Department and a 1988 Valley Forge High School graduate. Chilia's second book is entitled, "Imagine…The PossAbilities." This followed "Imagine…Amazing Me!" which focused on children with limb differences from throughout the U.S. and Canada, which Chilia completed more than a decade ago. Chilia's 14-year-old daughter, Sami, a Valley Forge Freshman, lives with limb difference every day. She wears a prosthetic leg due to a limb difference since birth. So the subject matter for both books would seem to come naturally. "I'm hoping that children who read this book define themselves not by what is missing, but, instead, by their passion," Chilia says in her profile on the Halo Publishing International website. The new book features children with limb differences, and has a universal message for everyone. It includes stories of teens overcoming challenges related to limb difference with a positive twist: as the author, Chilia asked the featured children how they overcame adversity and of what they are most proud in their individual lives. Chilia and her husband, Tony, are also the parents of sons Nick and Nate.
CLEVELAND THEN AND NOW -- The Parma Heights branch of the Cuyahoga County Public Library will be hosting an adult program titled, "Cleveland Then and Now," at 7 p.m. on Thursday, February 7. Pairing vintage photos with their modern-day viewpoint, Cleveland Plain Dealer and Cleveland.com Reporter Laura DeMarco, author of Cleveland Then and Now will take you on a tour through the many dramatic transformations of this vibrant city.
LOVING THE 60'S – Join musician and pop music enthusiast Bill Brauning for a look at the music, politics, iconic events and styles of the 1960's in a special program at the Parma Heights branch of the Cuyahoga County Public Library at 7 p.m. Wednesday, February 20. You can register online at http://attend.cuyahogalibrary.org/event/1057237
AT THE CASSIDY THEATRE – From February 8-24 the Cassidy Theatre will present Broadway Bound by the legendary Neil Simon.
Part of a trilogy of plays, preceded by 'Brighton Beach Memoirs' and 'Biloxi Blues', this story centers on Eugene and his brother Stanley who are trying to break into the world of professional comedy writing (while coping with their parents' messy and gut-wrenching split). When their material is broadcast on the radio for the first time, the rest of the family is upset to hear a comedic rendition of their own trials and tribulations. How will Eugene and his brother balance their loyalties to their family and to their art?
For tickets or more information, call the Cassidy Theatre Box Office at 440.842.4600 or visit www.cassidytheatre.com
A NEW ROLE – Congratulations to long-time local journalist Mark Holan, who recently began a position as Program Manager for the Food Pantry at All Saint's Episcopal Church, which serves residents in both Parma and Parma Heights.
SPAGHETTI DINNER FUND-RAISER – Parma Heights Cub Scout Pack 263 is hosting a Spaghetti Dinner fund-raiser from 5-8 p.m. Saturday, February 2 at Parma-South Presbyterian Church. Support our local young men!
SAY ALOHA – The Youth of Divinity Lutheran Church, 11877 Blossom Avenue, Parma Heights, will host a Hawaiian Luau Dinner and Silent Auction with doors opening at 6 p.m. Saturday, February 2.
The event, to be held in the church Fellowship Hall will help support 14 youth attending a mission trip to Brooklyn, NY this summer.
Tricia Crane directs the Youth Ministry at the church.
Tickets for the dinner and silent auction are $8 and are available by calling 440.845.2060.
NATIONAL PEPPERMINT PATTIE DAY AND LUNCH – In honor of "National Peppermint Pattie Day, which the Parma Heights Senior Center will celebrate on Monday, February 11, local seniors will have lunch together and get their own York Peppermint Pattie.
The Peppermint Pattie, in case you didn't know, was first introduced in York, Pennsylvania by Henry Kessler at his York Cone Company in 1940. The candy is hugely popular today, as it has been for many years.
Reservations must be made for the lunch by Monday, February 4 by calling the Parma Heights Senior Center at 440.888.4416, where Trish James is Acting Center Director.
Rick Haase
Rick Haase is a freelance writer from Parma Heights.
Read More on Parma Heights
Volume 11, Issue 2, Posted 10:34 AM, 02.01.2019