Winter's Celestial Companion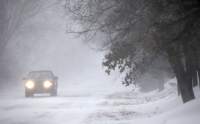 School classes were canceled with dipping temperatures prompting authorities to ground all airline flights. Alerts flashed crossed the television screen urging residents to stay indoors. The polar vortex had arrived. Interestate highways were starting to close. My husband and I would have to travel back roads to pick up our daughter from college. "What is that noise?" I asked. "Oh, it's probably just ice on the tires. We're fine." my husband assured me. As we drove further into the darkness of a desolate rural area, the noise became louder and the car began to intermittently stall out. I made a frantic call to my brother. Upon relaying the last mile marker I recalled seeing, he was sure there was a gas station not too far down the road. As the blizzard continued to obscure our vision, we finally caught sight of a brightly lit area just ahead. My brother arrive as our car stalled out for the very last time.
The driveway into the station was at an incline and covered by a sheet of ice. Both men would have to push the car in order to get it safely off the road and into the lot. I prayed, "Oh Lord, please send a guardian angel to help us. We are in trouble." As I sat in my brother's car keeping warm, flickering headlights appeared from a barely visible, narrow dirt road behind the gas station. I was sure it had to be an emergency vehicle because no one else in their right mind would be out in these dangerous below zero temperatures and bone-chilling winds.

A young man stepped out from an old pickup truck wearing only a thin short sleeved white t-shirt and light tan colored pants. He was fair with blonde hair and very muscular. I could not believe my eyes. He had no coat, no hat and no gloves. He walked slowly and calmly towards the men, unaffected by the subzero temperatures and frigid winds. I couldn't believe what I was seeing. I kept thinking he is probably a kid from the college and if only his mother knew he was out in this cold, and where was his coat? I was worried for him.
Just as my husband and brother began pushing the car up the icy ramp, the young man positioned himself between the two of them. He towered at least two feet in height over them. Then, with hardly any effort, he lifted the bumper pushing the car up the ramp by himself. My brother and husband could barely keep their feet on the ground as they struggled to keep hold of the bumper as the car was swiftly being moved up the ramp into the parking lot.
Once the car came to a safe stop, the young man gave a nod and slowly walked back to his truck. As the truck turned around heading towards the direction from which he arrived, there were no headlights nor taillights. He simply vanished into the darkness of the night. Was this a guardian angel sent by God in answer to a prayer? Or, was this just an exceptionally tall young college kid who just happened to appear from out of nowhere and who just happened to be unaffected by -20 degrees wind chill? I will leave that for you to decide.
As for me, do I believe God answers prayers? You bet I do. I experienced a peaceful senenity and confidence in the midst of a most difficult situation. With gratitude, I pray, "Thank you God for having placed these heavenly spirits at the protection and service of mankind."
I think we can agree ~ there are times in life in which we can all use a little help, celestial companions!

Susan Banks - Yurik
I am a Parma resident. Attended Pleasant Valley Jr. High, Valley Forge Senior High, Parma Senior High, and Tri-C. I am retired; have been published in Guideposts, Mysterious Ways and Angels On Earth. I also create Iconographic style drawings. My son was a Navy Nuke, my daughter was Miss Parma, and runner up to Miss Ohio. Three generations of our family attended Thoreau Park Elementary School, Schaaf Jr. High School and Parma High School. I love living in Parma, and I especially enjoy the city's unique European ethnicity.
Read More on News
Volume 11, Issue 2, Posted 10:34 AM, 02.01.2019