Convention Of Conservative Clubs At North Royalton Library On March 23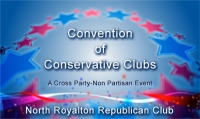 The North Royalton Republican Club is sponsoring a "Convention of Conservative Clubs" with local, state and national organizations. The event will be a live broadcast with Nick Phillips from radio "the Advocate" to host interviews with special guests. Day to share video feeds from the podium of our speakers with Ashland's Mayor, Matt Miller, as Emcee. Some speakers will be Jim Renacci on Economics, David Jenkins on conservative Environmentalism, Judge Matt Lynch on Judicial conservatism and Chris Long on Religious conservatism.
This event allows citizens not involved with any particular club or organization to find their niche of conservatism by visiting tables where they can find literature, sign up for meetings or get on email lists. This could be in ultra, constitutional, moderate, religious, environmental or economic areas. We will have speakers speaking conservatively on all these aspects. The event will be held at the North Royalton Library on March 23 from 10:00 am to 4:00 pm.
College Republican clubs are being invited along with some high school clubs that are conservative to have a table and meet with citizens and represent their school. All students attending will have a special opportunity to Q&A in a separate room with our top keynote speakers.
OhioMediaSchool students will be conducting their own walking interviews, commercial plugs, table interviews, and exit interviews as well as a live stream from Video To Life Productions.
Check out our Face Book event page at "North Royalton GOP" for up-to-date details.
Visit our website at: northroyaltongop.com for speaker's names, times and contact info.
Free pizza will be available along with drinks, free literature and pamphlets to take home along with handouts from the conservative groups. This event is free and open to the public, no registration is necessary.
Ronald Czarnecki
Ronald Czarnecki is President of the North Royalton Republican Club. He also runs the video production company called "Video To Life Productions" at videotolifeproductions.com He attends St Anthony of Padua in Parma and is a member of the Knights of Columbus Council 15614.
Read More on News
Volume 11, Issue 4, Posted 9:27 AM, 03.19.2019