Surely An Egg-Citing Event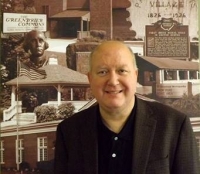 The Parma Heights Historical Society will present an old fashioned Easter Egg Hunt for children in the community ages 10 and under beginning at 10 a.m. Saturday, April 13 at the Gazebo at Greenbrier Commons. Children ages five and under can participate from 10-10:15 a.m. on the green space surrounding the gazebo. Those ages 6-8 can take part from 10:20-10:30 a.m., while those ages 9 and 10 can enjoy the fun from 10:35-10:45 a.m. Bring a basket to collect eggs. Parents should also bring a camera or their cell phone to take photos. The Easter Bunny will make a special guest appearance.
ART EXPLORATION – a new Art Exploration class will be offered on Tuesday evenings beginning April 23, and running through May 28 in Classroom 19-21 at Divinity Lutheran Church, 11877 Blossom Avenue, Parma Heights. The classes are free and are open to any skill level artist. Different media will be used each week, including graphite, charcoal, pastels). The final class will be an art show. The program is being taught by Kristin Yarger. For more information, call 440.845.2060.
WAKING UP YOUR GARDEN – Master Gardeners of Cuyahoga County will discuss what garden chores need to be done from March through June during "Waking Up Your Garden," at 7 p.m. Thursday, April 11 at the Parma Heights Library. The program will include topics like clean-up, fertilization, pruning and planting of lawns, flower beds, trees, roses and vegetables.
FRAUD ALERT – The Parma Heights branch of the Cuyahoga County Public Library will host a Fraud Alert program from 7-8 p.m. Wednesday, April 24. As a part of the program, the AARP Fraud Watch Network will provide an overview of the many types of scams and fraud, plus share methods for how to avoid them.
ONSTAGE AT THE CASSIDY THEATRE – Children of Eden, with book by John Caird and music and lyrics by Stephen Schwartz, based on a concept by Charles Lisanby and with orchestrations by Bruce Coughlin and Martin Erskine will be presented April 12-28. Children of Eden starts with the very beginning: the creation of the universe. Father breathes life into his children, Adam and Eve, and learns that the hardest part of being a loving Father is letting go. It's a lesson that translates into the parenting of Cain, Abel and Seth – and is reiterated once again as Noah parents his sons, Shem, Ham and Japeth. This joyous and inspiring musical celebrates the difficulty of choice, the importance of passion, the value of questioning, and the pain in allowing those you love to take risks and face the consequences. For more information, or to purchase tickets, call 440.842.4600 or go to www.cassidytheatre.com.
RECYCLE YOUR COMPUTER – The city's service department will host a "Recycle Your Computer" event from 9 a.m. to Noon on Saturday, April 13 at the Parma Heights Service Garage on Pearl Road. Residents can recycle unwanted home computer equipment including CPU's, monitors, keyboards, mice, printers, terminals, modems, cables, software, and ink printer cartridges. Cell phones and accessories are also accepted. Televisions are not accepted.
COMPOSTING SEMINAR – Parma Heights City Council Chambers will be the site of a Composting Seminar which is open to all Cuyahoga County residents beginning at 6 p.m. Thursday, April 18. The seminar will provide information on how to properly compost your household yard waste and food scraps. Compost bins will be available for purchase at the conclusion of the seminar.
Parma Heights City Hall is located at 6281 Pearl Road.
IN THE SWIM – Open Swim continues for residents of Parma Heights every Tuesday from 7-9 p.m. through April 23 at Valley Forge High School, 9999 Independence Boulevard. It is free.
PITCH, HIT AND RUN – The city recreation department will host a pitch, hit and run competition from 5-8 p.m. Friday, April 26 at Kuhn/McMillen Fields of Kurtz Park.
Rain date will be May 3.
For additional information, contact Baseball/Softball Commissioner Mark Davis at 440.842.1117.
INFORMATION PLEASE -- Want to see your Parma Heights information featured in this column? E-mail rick.haase@sbcglobal.net.
​
​
Rick Haase
Rick Haase is a freelance writer from Parma Heights.
Read More on Parma Heights
Volume 11, Issue 4, Posted 10:34 AM, 04.01.2019