Antonio Applauds Ohio's Transportation Budget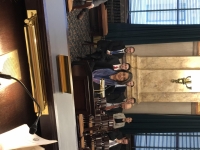 In early April, the Ohio legislature passed the state's two-year transportation budget, House Bill 62.
I was honored to serve as the highest ranking Democrat on the Transportation, Commerce and Workforce committee where the transportation budget was deliberated. Once the budget passed the Senate, it then moved to Conference Committee, a committee made up of three House members and three Senate members. I was honored to represent as the appointed conferee, the only Senate Democrat, on the committee. The job of the committee was to sort out the differences between the Governor's-introduced budget and the passed budgets in both the House and the Senate and come up with compromises through various amendments. In the end, we forged a compromise bill that the majority of Democrats could vote for.
HB 62 includes $70 million per year for public transportation, a 10.5-cent increase in the gas tax and a 19-cent increase in the diesel fuel tax as well as an increase in the state's Earned Income Tax Credit (EITC) for low- and moderate-income Ohioans amongst other items.
I supported this budget because it will bring more dollars to public transportation, provide an increased tax credit for low-income Ohioans, and bring needed funds to our local communities to fix our roads and bridges—core principles we fought to include.
Certainly, no one prefers tax increases; however, in order to keep our roads and bridges safe and increase public transportation, this was the only option. I was especially proud of the collaboration between the Ohio House and Senate Democrats as we worked together for the best way forward for all Ohioans.
Later this month, the Ohio Senate will begin deliberations on Ohio's operating budget, and I look forward to taking up that process.
For those of you who contacted our office during the transportation budget process, your input was much appreciated. Going forward to contact our office, our phone number is 614-466-5123 and our email is Antonio@ohiosenate.gov. My Legislative Aides, Taylor Phillips and Sarah Taylor, would be happy to assist you.
Nickie Antonio
State Senator Nickie J. Antonio is honored to be serving in her first elected term in the Ohio Senate District 23, following 8 years of service in the Ohio House of Representatives, 13th House District with 5 of those years serving in leadership as Minority Whip. Antonio has also served as Lakewood City Councilmember, Executive Director of an outpatient drug/alcohol treatment program for women and teacher for children with special needs. Antonio serves as Highest Ranking Member of the Senate Health, Transportation and Joint Medicaid Oversight Committees. She also serves on the Finance Subcommittee on Health, and Ways and Means Committees. She is also a member of the Ohio House Democratic Women's Caucus—previously serving as chair—and is the State Director for the Women Legislators' Lobby. She has been a dedicated champion of workers' rights, high-quality education, our local governments, equal rights for women and the LGBT community, healthcare for all and fighting the opioid crisis. Antonio is recognized as a leader who reaches across the aisle to get things done. As a result, she has worked to pass legislation such as Ohio's historic adoption open records law (SB 23/HB 61) and a step therapy reform law (SB 265/HB 72). During each of her four terms in office, Antonio has introduced the Ohio Fairness Act (now SB11), to provide civil rights protections for members of the LGBT community, as well as an end to Ohio's use of the death penalty and an array of other bills focused on improving the lives of all Ohioans. Antonio continues to be an established expert in health policy in the General Assembly. The first in her family to graduate from college, she holds both MPA and B.S.Ed. Degrees from Cleveland State University and was named a CSU Distinguished Alumni in 2013. She is also an alumnus and Bohnett fellow of the Kennedy School Harvard Leadership Program (2011). Daughters Ariel and Stacey have made Antonio and wife Jean Kosmac, very proud as the girls engage in their adult life journeys.
Read More on News
Volume 11, Issue 5, Posted 7:35 AM, 05.01.2019