Crashed: Pieces Of A Dream..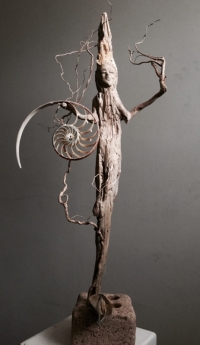 There is a well-known saying in the art world, "L'art pour l'art." A phrase first coined by 19th-century French Philosopher Victor Cousin that translates to"art for art's sake" in Modern English. Cleveland native and driftwood sculpture artist Linda Dempsey sees the world in very much the same way. A long journey from photography school in California has brought her current expressions to life along the shores of Lake Erie and twisting environs of nearby rivers and streams. This is where she often calls home, creating exotic pieces of leftover earth and arbor she then animates and anthropomorphically brings to life.
Earlier this year, Dempsey was approached by Lakeland Community College in Kirtland Ohio to share her work in their gallery for a month-long winter exhibit. Per the policy of the school, all artists must submit insurance values of their work prior to shows. She submitted the value of $3,000 for her selected pieces to show, pieces that were from her private collection and would not be set for sales. LCC then moved forward with the exhibit and began the curating process.
The show opened in February, and for Dempsey, it began the same as any other; that would, however, change in the distant hours to follow. A few days into the show an incident occurred in the gallery - a guest in attendance accidentally backed into Dempsey's sculptures while taking photos of other art in the room. Three of the sculptures crashed to the floor rendering one severely damaged and two destroyed. When this was brought to the artist's attention, LCC immediately went to work by aligning it as an insurance claim that would soon be resolved. The nature of that dialogue changed over time, as the claim then became one that was below their insurance deductible and had to be treated as a departmental payout.
After multiple communiques from both parties attempting resolve yet reaching a continued impasse, Dempsey countered with a reduced value of $1,900 in hopes of expediting an equitable conclusion.
LCC countered with $1,500.
Dempsey declined.
LCC then countered with $1,200
Dempsey declined.
LCC VP Marketing - Dawn Plants, when reached for comment expressed that the school has proceeded with securing an appraiser to determine the value of Dempsey's work, in hopes that the issue may soon be resolved.
Davidione Pearl
Freelance travel-writer, musician, photographer, philanthropist..
Read More on
Volume 11, Issue 5, Posted 7:36 AM, 05.01.2019