Free Comic Book Day 2019 In Parma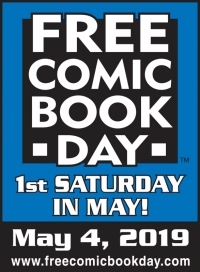 This year, Free Comic Book Day is celebrating its 18th year introducing readers to the wonders of comics and falls on Saturday, May 4th.
There will be up to 51 titles that may be available at each participating location. DC, Image, Tokyopop, Dark Horse, and Marvel will be among the many publishers offering titles that will include Spider-Man, Avengers, Pokémon, Stranger Things, Teenage Mutant Ninja Turtles, Riverdale, The Tick, Star Wars, Street Fighter, Robotech, and Doctor Who!
Fortunately for Parma area residents, there are two incredible comic book shops participating in this annual event: B & L Comics and North Coast Nostalgia, both of which are conveniently located along Ridge Road in Parma's Polish Village. Special highlights often include the Joker at B & L Comics and North Coast Nostalgia will be featuring Cleveland area residents dressed in superhero costumes along with a web show titled "The Not So Much But Us Show" that can be streamed on YouTube.
As is often the case on Free Comic Book Day, lines of colorfully costumed characters will likely already be forming as shops are about to open and each shop usually offers a different mix of comics.
Consider visiting both of Parma's fantastic comic book shops to find just what you're looking for on Free Comic Book Day!
Check out FreeComicBookDay.com for more information.

Stefan P. Stefaniuk
Stefan P. Stefaniuk has been a Parma, Ohio resident since 1982 and enjoyed growing up in Parma's incredible historic downtown neighborhood. After serving five years in the U.S. Navy, he was honorably discharged in 2009 and returned to Parma, where he now resides with his wife and four children.
Read More on News
Volume 11, Issue 5, Posted 7:35 AM, 05.01.2019