Young Professionals Of Parma Urges Businesses And Patrons To Skip The Straw In Earth Day Campaign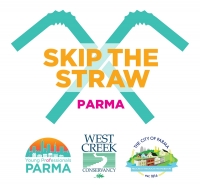 "It's only one straw," said 8 billion people. Did you know that Americans use 500 million plastic straws a day? It's no wonder that straws are one of the top items that end up in our waterways ー such as Lake Erie ー harming wildlife and impacting the health of humans and communities.
Fortunately, this is also an issue that's easily addressed. In honor of Earth Day, The Young Professionals of Parma, in conjunction with the City of Parma and West Creek Conservancy, have launched a campaign to urge business and their patrons to join the Skip the Straw campaign. As part of the campaign, Skip the Straw simply requests that patrons refrain from using a straw or bring a reusable metal or plastic one to use if necessary. In turn, Skip the Straw asks that businesses refrain from automatically putting a plastic disposable straw in each beverage, but rather allow customers to request a straw if they so desire. Often, customers are content without one.
"I've personally tried to give up straws but find it's difficult when restaurants and bars often automatically put them on the table or in drinks. That's why we decided we needed to educate both consumers and business owners as part of our Earth Day campaign. We're thankful to have the support of the city and West Creek Conservancy as part of this initiative.
Many Cleveland businesses have already pledged to Skip the Straw, including Melt Bar and Grilled owned by successful restaurateur and Parma-native Matt Fish.
"Fresh water is so vitally important for our survival on Earth," Fish said. "We are blessed with an abundant supply living in NE Ohio. The Great Lakes, rivers, streams and creeks all need to be preserved to keep this fresh water supply clean and in abundance. I love living and owning a business in NE Ohio. Because of this, I feel responsible to take small and large steps to preserve the incredibly valuable fresh water resource we have."
As part of the campaign, Young Professionals of Parma is posting on social media and sending letters and flyers to local bar and restaurant owners. For more information on Skip the Straw, visit sustainablecleveland.org/skip_the_straw.
Kathie Zipp
Kathie Zipp is marketing director for the Young Professionals of Parma.
Read More on News
Volume 11, Issue 5, Posted 7:35 AM, 05.01.2019