Celebrate Summer With The Ultimate Parma Scavenger Hunt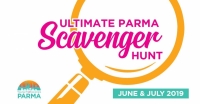 How well do you know your city? The Young Professionals of Parma is giving you the chance to put your knowledge to the test while having fun discovering Parma with a summer scavenger hunt.

Follow the link to the Google Form at parmayps.com/events/ to see the list of hints. Then, throughout July drive around the city on your own time snapping photos of the items and places described. Then, simply upload the photos on the Google Form and submit before July 31.
Provide correct photos for at least ten hints to receive a Parma sticker. Provide correct photos for 20 or more hints to receive a sticker, as well as an entry for a chance to win a gift card to a local restaurant.

Submit one form per person, or team up with friends or family and submit together. Have questions? Email hello@parmayps.com. Most importantly, have fun exploring our great city!
Kathie Zipp
Kathie Zipp is the marketing director for the Young Professionals of Parma.
Read More on News
Volume 11, Issue 7, Posted 10:28 AM, 07.02.2019