Lake Erie Bill Of Rights Sold Down The River By Industry And Ohio State Government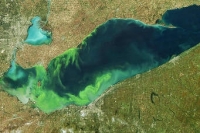 While Northeast Ohioans revel in heady, self-congratulations on the 50th anniversary of the Burning of the Cuyahoga River – and all the things we've allegedly learned from it – our beautiful Lake Erie is worse than on fire.
It's about to be sold to corporate interests by a government that can scarcely live up to its claim to "regulate" harm.
The first of its kind in the U.S., a Rights of Nature bill, the Lake Erie Bill of Rights (LEBOR), is now being challenged by animal agribiz with state backing for, get this: the right to dump animal waste into Lake Erie, slated to break records for toxic algal blooms caused and exacerbated by this type of polluting. (Animal agribiz results in more carbon emissions and degradation that excel climate change than industry and transportation combined.)
According to Tish O'Dell, Ohio organizer for the Community Environmental Legal Defense Fund: "In Toledo, Ohio, 61 percent of voters passed the Lake Erie Bill of Rights (LEBOR). It is the first law in the U.S. that specifically acknowledges the rights of a distinct ecosystem, securing the Lake's rights to exist, flourish, and naturally evolve." She adds, "LEBOR subordinates the 'rights' of corporations to the rights of people and the Lake . . . "
But after the vote, a judge granted the State of Ohio intervention in a lawsuit brought by an agribusiness farm against LEBOR. O'Dell explains: "The corporate farm and the State of Ohio joined forces against the people to protect Lake Erie by claiming LEBOR 'illegitimate,' but they now realize, in fact, that it is their government's actions that are illegitimate." O'Dell's juxtaposing Ohio Attorney General David Yost's ignorant press statements about "giving Lake Erie the right to sue as nonsense" to her own is spot-on, as she exhorts: "Giving non-living corporate entities the right to sue is legal nonsense."
Ohio House of Reps' response to Toledo's adoption of LEBOR is particularly officious: When the House passed the 2020-2021 budget bill, they snuck in language to ban all existing and future Rights of Nature laws.
At this writing, Ohio Senate is expected to pass the bill by late June. It then goes to Governor DeWine (aka, Mr. Magoo) to be signed into law.
On a related note, if the wind industry – a bandage solution to climate change - has its way here, turbines may be erected offshore Lake Erie, resulting in incalculable migratory bird collisions/deaths along one of North America's busiest flyways. Avian mortality likely can't be tracked on water. And the industry already sued Ohio Department of Natural Resources (ODNR) to keep public records private at the Black Swamp Bird Observatory in Northwest Ohio, where bald eagle and other sensitive populations' mortality are kept secret. The state is a whore.
Yet, O'Dell says, "The state claims to be the ultimate and sole authority that can protect Lake Erie. We see the state using its authority to 'regulate' how Lake Erie is used and exploited."
In environmental legal defense speak, the term "regulate" is key. Governments, including the EPA, regulate harm in order to satisfy special interests -- who actually cause the most harm -- they don't stop it. Remember Toledo's complete loss of water for three days in 2014, caused by lake toxicity? Regulation has worsened it.
Similar hoaxes play out on other Ohio political stages. At the Division of Wildlife, the ginormous issue affecting 96% of the public -- refusal by Ohio Department of Natural Resources, Division of Wildlife (ODOW) to implement EPA-approved, humane, affordable, and proven effective deer birth control PZP (Zonastat-D) -- is forcing ordinary Ohioans to demand what other Midwestern states have already implemented. ODOW officials claim PZP is "not approved," but they're the ones refusing it, to protect special interests totaling roughly four percent of the population.
Meandering back to LEBOR: As O'Dell points out, in the Ohio State Constitution: "All political power is inherent in the people. Government is instituted for their equal protection and benefit, and they have the right to alter, reform, or abolish the same, whenever they may deem it necessary."
O'Dell, Ohio organizer for the Community Environmental Legal Defense Fund, urges those interested in the Community Rights Movement in Ohio contact Ohio Community Rights Network and Community Environmental Legal Defense Fund.
Lucy McKernan
Animals first
Read More on Opinion
Volume 11, Issue 7, Posted 10:28 AM, 07.02.2019