Parma Police Chief Recognized By NOPEC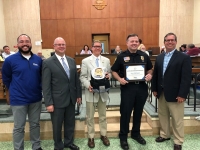 Since 2016, NOPEC has instituted a recognition program to identify exemplary employees in cities throughout the Greater Cleveland Area. This year our Chief of Police Joseph M. Bobak had the honor of being singled out for this special recognition. As a lifetime resident of Parma, am I pleased and proud to learn that this has occurred? You bet. Am I surprised? Not even one little tiny bit. For even the casual observer, it is quite apparent that our police department is a top-notch organization, and our tremendous statistics making us one of the safest cities in Ohio and the nation is proof positive that the citizens of Parma enjoy a special relationship with their police department that people in other cities hope and wish they had. Our police officers are part of a highly functioning department that consistently achieves excellent results with what can only be described as limited resources for a city of 80,000 people, the 7th largest city in Ohio. A good part of the reason for that is the relentless training that is always ongoing, along with the prime effective leadership that is present from the top all the way down. Make no mistake- the performance of our police department here in Parma plays a major role in making our city a desirable place to live. Congratulations Chief Bobak.
Daniel P. McCarthy
I am the publisher of the Parma Observer. Lifetime resident of Parma for over 50 years.
Read More on Opinion
Volume 11, Issue 7, Posted 10:27 AM, 07.02.2019