State Representative Crossman And Senator Antonio Propose Oversight Reform To Address County Jail Issues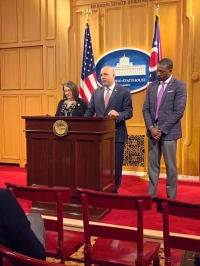 The two Ohio Statehouse delegates representing Parma recently proposed legislative initiatives seeking to reform how the Ohio Department of Corrections provides oversight and enforces compliance with state standards.
At a press conference held at the Ohio Statehouse recently, Senator Antonio and Representative Crossman announced that their measures would apply statewide and would provide stricter enforcement of the current standards. Among the proposals included:
A strict timeline for addressing jail deficiencies with the ODRC filing a lawsuit to secure compliance;
Providing the ODRC with the option of appointing an outside expert to run a non-compliant jail
Allowing the state to close a jail or suspend its operations in the event the jail could not be brought up to compliance in a timely manner.
According to Senator Antonio, "the State of Ohio shares responsibility [for fixing problems with the County jail)." Rep. Crossman stated that "it's not about casting blame but acknowledging there are issues that must get corrected. These issues did not occur overnight."
Rep. Crossman and Antonio also announced that their legislation will include establishing a bi-partisan commission to study additional jail needs, including examining facilities, funding, and training among other issues. According to their comments at their recent press conference, the oversight reform is about enhancing accountability and encouraging a sense of urgency to correct issues when they arise. According to Rep. Crossman, the legislation is expected to be introduced when the Statehouse returns to session in September.
If you wish to contact State Representative Crossman, you may email him at Rep15@ohiohouse.gov or reach his office at (614) 466-3485. You can also follow him on facebook at /Crossmanforohio or on Twitter @jeffacrossman
Read More on News
Volume 11, Issue 7, Posted 10:27 AM, 07.02.2019