City Of Parma Works To Address Flooding Issues And Seeks Assistance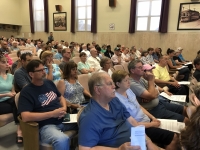 On July 5, a severe storm impacted the southwest portion of Parma in the afternoon, dumping a massive amount of rain. Local media reported 4.1 inches of rain in less than an hour, and the National Weather Service reported 5.5 inches in some areas. As a result, flash flooding occurred in Parma, Parma Heights, and North Royalton. Some residents reported that their basements flooded for the first time in homes where they have resided for more than 20 years.
"Our drainage system was simply overwhelmed because it could not absorb that amount of rain in such a short time period. We closed 13 roads and dispatched police and fire to reroute traffic and help residents. Our firefighters responded to 15 EMS calls and 38 fire calls during and immediately following the storm. Fortunately, no one was injured," said Parma Mayor Tim DeGeeter.
In 45 minutes, the storm caused significant damage and weeks of cleanup. Cuyahoga County Department of Public Works responded to 174 calls from residents regarding storm lines between July 5 and July 8. Service Department employees worked extended hours the evening of the flood and over the following two weeks to pick up flood-damaged property that residents placed on tree lawns.
To help gauge the damage, Parma, Parma Heights, and North Royalton are collecting and logging information regarding all the homes, streets and yards that experienced flooding. The city is asking residents to complete a damage assessment form available on the city's website and Facebook page. Parma, Parma Heights, and North Royalton are collectively applying for state and federal assistance but, according to the Cuyahoga County Office of Emergency Management, the government threshold to qualify for assistance is extremely high.
At two meetings held at City Hall Council Chamber on July 17 and July 24, many residents living in the southwestern neighborhoods of Parma who were flooded attended the meetings. They asked city and county officials what has been done to help mitigate flooding.
Collaborating with the Public Works, the city has spent about $31.5 million on sewer line maintenance and $8.66 million in flood prevention infrastructure projects over the last seven years. Since 2012, Public Works has responded to 18,600 house service calls and jetted nearly 1.7 million feet of lines.
Additionally, the city purchased a $281,517 broom sweeper to clean streets and a $475,460 jet vacuum for clearing catch basins. A $5,000 catch basin repair program allowed the city to repair 150 catch basins on main streets during 2018. This year, the city is repairing 138 catch basins on secondary neighborhood streets.
What now?
The city has received millions of dollars each year in local, state and federal grants and low-interest loans to offset expensive infrastructure projects for sanitary and storm sewer line improvements, culvert repairs, bridge upgrades, and headwall replacements and will continue to seek these funds. For example, the city has applied for federal grants to address flooding issues in the areas surrounding Antoinette Drive, Regency Drive, West Ridgewood Drive, Judy Drive, York Road, and West Pleasant Valley Road.
"This is a regional problem and fixing a problem in one community can impact another community. The Sewer District's three-year stormwater study, which should be completed at the end of 2019, will show us why we are flooding in areas and help us find solutions," DeGeeter said. "In the past, we completed major projects, such as the Chevrolet Boulevard Detention Basin, to help mitigate flooding. Currently, we are doing a number of smaller projects throughout the city, such as the one at Orchard Park."
DeGeeter said the city was told last year that the federal Community Flood Control Mitigation Program lacked funding. This year, the city is asking again if funding is available.
Additionally, on Aug. 12, city officials will be traveling to Buffalo, N.Y., to meet with the U.S. Army Corp. of Engineers. They will be making a presentation about the July 5 flood-damaged area and asking about the section of the city where they have applied for funds.
What can residents do?
Residents who want their sewer lines snaked should contact Public Works at 216-443-8201 and ask about having their lateral storm lines jetted.
If a resident sees that a catch basin is clogged, they should call the City of Parma Service Department at 440-885-8184 and request it to be cleared.
More Information
To learn more, go to the City of Parma website, click on "Departments" and select "Service Department" from the dropdown menu. On the Service Department page, residents can read the Cuyahoga County Department of Public Works annual reports for the City of Parma from 2013 to 2018. Also on this page, residents can read about "Integrated Planning" (see link in the right blue column).
https://www.facebook.com/CityofParmaOhio/
http://cityofparma-oh.gov/en-US/Service-Dept.aspx
Carolyn Kovach
Claudia Stephens, Communications Intern, City of Parma
Carolyn J. Kovach, Communications Director, City of Parma
Read More on News
Volume 11, Issue 8, Posted 3:15 PM, 08.01.2019