Pooch Party To Benefit Northeast Ohio SPCA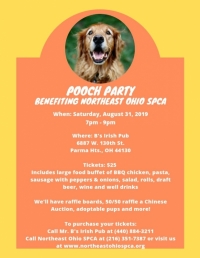 Northeast Ohio SPCA has been a staple in the Parma neighborhood beginning in 2004. Since then, our shelter has helped over 35,000 dogs, cats, and small animals find their forever homes. We believe very strongly that no healthy animal should ever have to be put to sleep due to overcrowding. Unfortunately, not every shelter works this way and nearly 1.5 million animals are euthanized each year due to overcrowding. In our effort to combat this epidemic, we regularly rescue animals from kill shelters by transporting them and caring for them at our NO-KILL shelter until they are able to find their new families.
The work we do is often stinky, messy, and costly, but we love every minute of it! However, with gas prices soaring, transportation has become even more expensive. Some of the animals that arrive at the shelter require extra medical care which often leads to extremely pricey procedures and aftercare.
The caring folks at Mr. B's Irish Pub recognize the constant struggle no-kill animal shelters face and are eager to help Northeast Ohio SPCA out in the best way they know how; by throwing a party! A Pooch Party that is! The Pooch Party will be held on Saturday, August 31st from 7 p.m. to 9 p.m. at Mr. B's Irish Pub located at 6887 W. 130th St. in Parma Heights. Tickets are $25 and will include a large summertime buffet complete with BBQ chicken, sausage and peppers, pasta, salad, draft beer, wine, well drinks and more! The event will also feature raffle boards, 50/50 raffle, Chinese auction and adoptable pups on site! All proceeds will benefit the Northeast Ohio SPCA.
To learn how you can be a part of this PAWsome fundraiser please call Mr. B's Irish Pub at 440-884-3211 or visit www.northeastohiospca.org.
Read More on News
Volume 11, Issue 8, Posted 3:15 PM, 08.01.2019