State Senator Nickie J. Antonio Applauds State Budget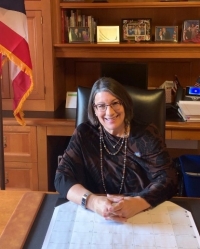 Last week in Columbus, I voted yes on House Bill 166, the state's two-year, $69 billion budget bill. Ultimately, I was pleased to vote in favor of this budget. Some concerns remain, especially regarding education measures that were not sufficiently addressed in this budget, including academic distress commissions, state report cards, and graduation requirements. Overall, this budget makes real investments in our communities. It also shows our commitment to the people of Ohio, as we continue working to make our state the best place for people to choose to live and raise their families.
I helped secure several critical investments in the bill, including:
$1 million per year for the Cleveland Lead Safe Coalition to reduce lead-poisoning in rental homes across the city
Increased money for programs supporting children with severe mental health issues who utilize multiple state services, known as multi-system youth
Public health initiatives, including resources to curb the opioid epidemic through harm reduction such as syringe exchange services and increased access to Naloxone
Increased funding for our public libraries
Adult protective services initiatives and funding to help vulnerable adults who are unable to protect themselves
Arts and culture funding by increasing money for the Arts Council and continuing the motion picture tax credit which brings business to Ohio
Strengthened initiatives to lower infant mortality through home visiting programs
Expanded wrap-around services for our schools so students can reach their highest potential
The bipartisan budget includes longstanding Democratic priorities. HB 166 increases funding for affordable housing programs through the Ohio Housing Trust Fund. It includes various measures aimed at supporting Ohio's children and families, like additional funding for children's services and home-living programs for low income and elderly Ohioans. It also funds the H2Ohio water quality initiative through the next two years.
Nickie Antonio
State Senator Nickie J. Antonio is honored to be serving in her first elected term in the Ohio Senate District 23, following 8 years of service in the Ohio House of Representatives, 13th House District with 5 of those years serving in leadership as Minority Whip. Antonio has also served as Lakewood City Councilmember, Executive Director of an outpatient drug/alcohol treatment program for women and teacher for children with special needs. Antonio serves as Highest Ranking Member of the Senate Health, Transportation and Joint Medicaid Oversight Committees. She also serves on the Finance Subcommittee on Health, and Ways and Means Committees. She is also a member of the Ohio House Democratic Women's Caucus—previously serving as chair—and is the State Director for the Women Legislators' Lobby. She has been a dedicated champion of workers' rights, high-quality education, our local governments, equal rights for women and the LGBT community, healthcare for all and fighting the opioid crisis. Antonio is recognized as a leader who reaches across the aisle to get things done. As a result, she has worked to pass legislation such as Ohio's historic adoption open records law (SB 23/HB 61) and a step therapy reform law (SB 265/HB 72). During each of her four terms in office, Antonio has introduced the Ohio Fairness Act (now SB11), to provide civil rights protections for members of the LGBT community, as well as an end to Ohio's use of the death penalty and an array of other bills focused on improving the lives of all Ohioans. Antonio continues to be an established expert in health policy in the General Assembly. The first in her family to graduate from college, she holds both MPA and B.S.Ed. Degrees from Cleveland State University and was named a CSU Distinguished Alumni in 2013. She is also an alumnus and Bohnett fellow of the Kennedy School Harvard Leadership Program (2011). Daughters Ariel and Stacey have made Antonio and wife Jean Kosmac, very proud as the girls engage in their adult life journeys.
Read More on News
Volume 11, Issue 8, Posted 3:15 PM, 08.01.2019