Representative Crossman's Town Hall Identifies Wins For Parma In State Budget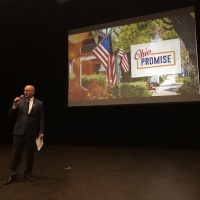 Parma got its turn on the "Ohio Promise" tour recently, as State Representative Jeffrey Crossman conducted a Town Hall event at the Parma Library on Snow Road. The Ohio Promise tour this summer, led by Democratic legislators from the Ohio House of Representatives, has focused on explaining the legislative wins from the state's $70 Billion biennium budget for Ohio House Districts like Parma.
"Our Ohio Promise tour is about explaining how we're focused on legislation that will return Ohio to an opportunity state. People used to come to Ohio and retire here because of the opportunities that existed for better jobs, for example, and that's what we're focused on rebuilding" said Crossman. Rep. Crossman presented an entire slate of legislation that had recently passed the Ohio House targeted at reducing the cost of college education, obtaining good paying jobs in newly certified fields, and ensuring access to quality healthcare for seniors among other bills.
Rep. Crossman also focused his presentation on the state's two-year budget, which included other wins for the area, such as an increase of an estimated $3.2 Million in additional funding for rebuilding Parma's roads and other infrastructure projects. "We were able to reverse the Columbus cuts to Local Government Funding and increase it a bit to ensure that cities like Parma have enough money to fund things like police and fire departments." During the 8 years of the Kasich administration, the Governor forced cities across the state to find ways to increase revenues, by forcing local income tax increases for example, as the state imposed severe budget cuts on cities to fix its own budget. "The Local Government Fund consists of local tax dollars collected by the state that belong here in the community—not in Columbus" said Rep. Crossman.
During the open question and period, residents asked about details on the passage of the State's "Nuclear Bailout" bill (House Bill 6) and inquired on what the state legislature will do to address mass shooting incidents. According to Rep. Crossman, who opposed the nuclear bailout legislation, the bill is "a bad deal for Ohio." "Not only did the state choose to invest in outdated technology, First Energy Solutions did not open their books to verify whether there was actually a need for the $165 Million a year that the state will be paying indefinitely. From the evidence presented, it appeared that these plants are already profitable and they didn't need taxpayer money." As for gun control legislation, Rep. Crossman applauded the Governor for taking the lead, but also pointed out that there were several bills introduced before the recent shooting incident in Dayton. "If you want your opinion heard on these bills, contact my office, but also contact the chairman of the committee where these bills are pending. They decide whether these bills even get hearings, but I agree that it's long past time to have a conversation on these bills."
Rep. Crossman also announced a series of open office hours beginning Saturday, September 7 at the Parma Library and encouraged constituents to meet with him to address issues of concern to them. "I appreciate the feedback and often the best ideas come from the people that are most directly impacted by the issues—they've typically thought about these issues a long time before I hear from them." An appointment is recommended for these office hours, which can be scheduled by contacting the Representative via email at Rep15@ohiohouse.gov, by telephone at (614) 466-3485, or via Facebook @crossmanforohio.
Read More on News
Volume 11, Issue 9, Posted 2:14 PM, 09.02.2019