Council Members And State Rep. Sponsor Successful Quarry District Picnic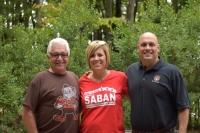 For the third year in a row, elected officials representing Parma's Quarry District area, roughly the intersection of Snow and Broadview roads in Council Wards 4 and 9, held a free community picnic for residents living in the wards. The event was paid for and sponsored by Council members Kristin Saban (Ward 4), Roy Jech (Ward 9), and State Representative Jeff Crossman.
"We love doing this event" said Councilwoman Saban, "it's about building community and promoting the idea of the Quarry District." According to Saban, the city designated the area as the "Quarry District" several years ago and planning is underway to create a tangible and distinct destination district in Parma. "The former Midtown Plaza is undergoing redevelopment as we speak and will be renamed Quarry Square. We are also looking at more additions for the Quarry District over the long term" Saban said, including possible bike trails that would connect residential neighborhoods to West Creek park and the Quarry District. State Representative Crossman who, along with Councilwoman Saban, held the first event in 2016 when he was a Councilman said "we want to encourage this [Quarry District] project because it would create connectivity to the area by more than just vehicle traffic. Ultimately, we want a District that is more than just a pass-through but a destination with amenities that people could enjoy." According to Saban, the event held at West Creek's Keystone pavilion was well attended with over 100 families that came to enjoy the summer weather with their neighbors, listen to live music provided by "Hoop and Company" and enjoy the food provided by Saban, Jech, and Crossman. "Representative Crossman grilled the hotdogs and we had games for the families. This is a nice event for our community—one we hope to continue" said Councilman Jech.
Councilwoman Saban said that next year's event is already scheduled so mark your calendars now for next year's 4th annual Quarry District picnic on Sunday, September 13, 2020.
Read More on
Volume 11, Issue 10, Posted 7:58 AM, 10.03.2019