Parma Church Celebrates 150 Years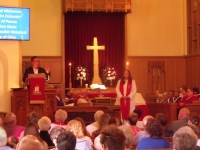 Parma Mayor Tim DeGeeter presented a proclamation in September to Pastor Karen Wolcott to recognize Ridgewood United Methodist Church's 150th anniversary. "I congratulate the church on reaching this milestone year," DeGeeter said.
The mayor, along with the city and schools, have partnered with the church three times to promote summer youth Workcamps. The camps attract teens from around the country who volunteer their time to assist senior citizens and disabled residents with various homeowner projects such as painting homes, erecting wheelchair ramps, sprucing up yards and repairing porches and roofs.
"This is a wonderful community service the church helps provide our residents who can no longer do this physical labor themselves," DeGeeter said.
Carolyn Kovach
Carolyn J. Kovach
Director of Communications, City of Parma, Mayor's Office
Read More on News
Volume 11, Issue 10, Posted 7:58 AM, 10.03.2019